Explorer Scouts are young people, usually aged between 14 and 18 years old. They make up the fourth Section of the Scouting family. There are many types of Explorer Scout Units, some may be linked to your local Scout Group, others may be based around different activities.

Find the nearest Unit to you HERE
Members registration form:
All Explorer Scouts and Young Leaders must be registered with the Explorer Scout Administrator Tracy Seton, utilising the form below, so that they may receive training/support.
Hi everyone
Awards:
If you've got any Explorers that need interviewing/signing off for their Chief Scout's Platinum/Diamond awards- let me know… tracy.seton@lonsdalescouts.org.uk
Platinum and Diamond Award Process Map:
Click on the logo to find all the latest information on what's happening on the award in Lonsdale
Dates for your Diary:
Check out the District Diary here . . . .
Forthcoming Adventures
Below is a selection of the upcoming adventures for Explorers. Please speak to your leaders, or to Tracy Seton (DESA) for more information.
If you want to attend an event but your unit is not planning on attending then please again contact us and there is every chance that a District solution will be found.
Environment Camp (booking opens soon)
When? 1st May – 3rd May 2020
Where? : SilverHelme Scout Activity Centre
How Much?: Free
This camp completes (sections of) the Environment side of your Platinum and Diamond awards, this is achieved by attending the camp to give your time to the basic maintenance and completion of tasks across one of our campsites, this time SilverHelme.
Please note you do not have to be working to one of these awards to come, it is open to all Explorers
County Explorer camp is here again!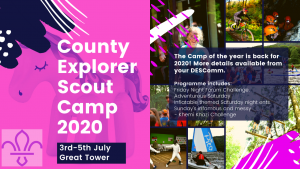 When? 3rd July -5th July
There are lots of amazing activities on the Saturday and the fantastic Khemi Khazi Challenge on the Sunday
The cost of the camp is £39 (which includes all the activities) plus £13 for food so a total of £52
Invites to this event were sent out to Explorers/parents on 15/02/20 if you have not got your invite then please email; tracy.seton@lonsdalescouts.org.uk
Booking and payment deadline 01/05/2020
Gilwell 24 2020 (not yet booking for this)
Challenge yourself to 24 hours of fun and adventure at Scout Adventures Gilwell Park. If you're an Explorer Scout or Ranger Guide aged 14 to 17 and looking for a high-octane experience, Gilwell 24 has your name all over it!
What? Think twenty-four hours of non-stop, concentrated (with juicy bits) adventure. Think screaming on bag drops, climbing a rock face, riding quad bikes, and watching the sunset. Think listening to bands, dancing all night, watching the sunrise, and keeping on going. Think being surrounded by old friends, new friends, and we'll-be-friends forever friends.
When? Friday 10 July – Sunday 12 July 2020.
Where? Scout Adventures Gilwell Park
Who? Explorer Scouts or Ranger Guides aged 14-17.
How much? At this stage we have not determined this; last year it was £120 including transport costs. We are currently looking at the transport costs as there is a new train operator and we need to establish if there are group booking reductions.
Durham 2020 (District bookings now closed)
District Camp
A District camp is planned for September – watch this space for more information
District Explorer Forum
coming soon . . .
Position of badges on uniform