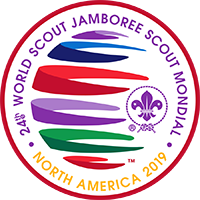 The 24th World Scout Jamboree will take place from 22 July to 2 August 2019, at Summit Bechtel Reserve in West Virginia, in the United States of America. The UK will be sending a Contingent and West Lancs County has been given a Unit of 36 young people and 4 leaders.
West Lancs Scout County is seeking a Unit Leader and three assistant leaders, who will develop, train and lead a unit of 36 young people to the World Scout Jamboree in American in 2019. World Scout Jamborees are fantastic events which have a wide reaching impact on the young people who attend and also the wider Scouting community. Helping to deliver this impact as the unit / assistant leader is challenging but extremely rewarding task.
The Jamboree dates are from 22nd July to 2nd August 2019. A departure from the UK a few days before is probable as is some form of home hospitality afterwards for UK Units. This means that the Jamboree experience will last approximately 3 weeks.
West Lancashire County Scout Council now invites any member of the Scout County, aged over 18, to apply to be part of the Unit Leadership team for the event.
These are very time consuming and demanding roles, but have the potential for tremendous rewards and experiences.
People can apply to be the Unit Leader, Assistant Unit Leader or apply for either position. West Lancashire County Scout Council will pay the Jamboree fee for the four leaders that are appointed.
The successful Unit Leader MUST be able to attend the selection date for the Assistant Unit Leaders – Sunday 1st October, 2017, so those persons applying for the Unit Leader role should keep this date in their diary free.
Application forms, further information and a job description can be downloaded below:
Further enquiries may be made via Richard Charnock (Chair, World Youth Events Committee) on 07967 867961 or richard_charnock@sky.com
The closing date for all applications is strictly Sunday 16th July 2017.
Following an initial paper sift interviews will be held as follows:-
Unit Leader – Sunday 3rd September 2017
Assistant Unit Leaders – Sunday 1st October 2017
24th-World-Scout-Jamboree-Leadership-Application-Form.docx (14 downloads)
---
24th-World-Scout-Jamboree-Additional-Information-for-Applicants.docx (14 downloads)
---
Unit-Leader-Role-Description.docx (3 downloads)
---
Assistant-Unit-Leader-Role-Description.docx (23 downloads)
---
Unit-Leader-Assistant-Unit-Leader-Person-Specification3.docx (15 downloads)