Keen eyed observers walking along Back Marine Road East, off Seaborn Road in Morecambe might just discern this sign marking the downstairs entrance to the former 4th Morecambe's basement HQ below the Methodist Church.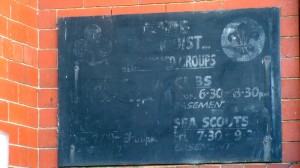 District records show that the Group, no. 11810, was registered on Aug 19 1931 as 4th Morecambe & Heysham (Bare) having been formerly 4th Morecambe & Heysham (East), with S. Makin as Group Scout Master in charge.
See also Sea Scouts' Duties 1929
The District Archives holds a minute book from this time. The front page reads as follows:- "The Minutes of the 4th MORECAMBE (EAST) GROUP BOY SCOUTS FOUNDED March 3rd 1930 HEADQUARTERS:- BARE WESLEYAN CHURCH S. Makin., GSM Mere Cot Mardale Avenue MORECAMBE F. Driver., ASM Chesterford Oak Avenue BARE GROUP REG. NO. 11810"
The first entry being:- "July 16th 1930 Meeting No. 1. Present: Messrs Makin, GSM – Chairman, F. Driver, ASM, H. Kite PL, A Brown PL, G Hurley Second." – includes:
"It was resolved that we ask the other Morecambe Troops to be present at our forthcoming Investiture Ceremony and that ADC Wright be requested to officiate."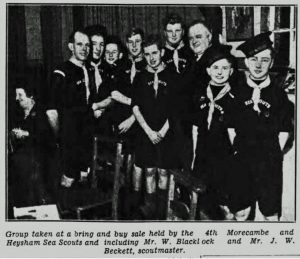 An interesting item filed in the minute book is a POST CARD containing an Agenda for a meeting of the Group Council. It reads "GROUP COUNCIL – FEB 9th (1940) AGENDA 1. The proposed suspension for the Scout Troop & Cub Pack during the ensuing year & until such time as the War in Europe be over. 2. Co-operation between Scouts & Cubs in the Group. 3. Where is the money coming from to pay for doing up the Clubhouse. 4. Whether or not we hold a Concert. 5. Group Re-union."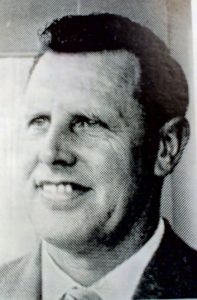 The Group was re-registered Aug 14th 1973 as 4th Morecambe & Heysham Sea Scout, formerly 4th Morecambe & Heysham (Bare) with Fred Driver as Group Scout Master in charge.
Research indicates that the 4th Morecambe had originally been registered – January, 1912 at the Parish Church with S.M.- Rev. R. E. Stanley. Peter Gedge in "Scouting in Lonsdale 1908-1999" states that "in Morecambe Group numbers 1-7 moved around the District as Groups came and went. After 1930 Groups were called Morecambe & Heysham."
MORECAMBE AND HEYSHAM AND DISTRICT
BOY SCOUTS' ASSOCIATION
ANNUAL REPORT
1939 – 1940
THE GROUPS.
includes:-
C-Cubs. S-Scouts. SS-Sea Scouts. R-Rovers.
4th MORECAMBE AND HEYSHAM:-C., S., SS and R.
Headquarters: Bare Methodist School.
G.S.M.: S. Makin, 25, Mardale Avenue.
S.M. (Sea) : F. Driver, Oak Avenue.
S.M.: J. R. Brenan, 24, Hest Bank Road.
A.S.M.: S. Hargreaves, Springfield, Hest Bank.
A.S.M.: J. R. Carter, 488, Marine Road.
C.M.: B. J. Toole, 33, Charles Street, Lancaster.
A.Q.M.: *H. Bramhall, 22, Park Street.
A.C.M.: # Miss R. Nixon, Hest Bank. ,
R.S.L.: M. Wright, 60, Clarendon Road.
* On Active Service. # Not Warranted
An article from the Morecambe and Heysham Visitor and Lancaster Advertiser dated June 19, 1946 reports the opening of the new HQ.
The Group was very strong for many years but closed in 1995.
The writer recalls that the HQ was typical of its type – dark and dusty. After a game of British Bulldog the place would be enveloped in choking clouds of dust, all adding to the experience! There were several small rooms off the main area used for storage and patrol dens. It was not unknown for the basement to be flooded at very high tides.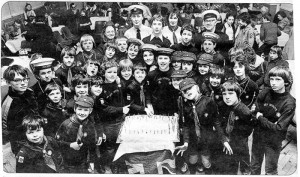 In this photo I recognise Fred Driver (back row right) and the Davenports (back row centre). Were you there?
A favourite activity was sailing on the bay in their own vessel the "Walter Bell". I wonder what happened to that . . .
See also 4th Morecambe – 19 Years Progress
Contact webmaster alan.hague@lonsdalescouts.org.uk if you have other memories to share.
*Walter Bell (1872-1962) was born 13 April 1872 in Morecambe.
Morecambe Guardian 03 March 1951:
Publicising Morecambe shrimps
A model boat, an exact replica of the Morecambe fishing boats, will be on display at the Ideal Home exhibition which opens in London on Monday.
The model, made by 80-years-old Mr. Walter Bell, of Poulton Road, with the assistance of Mr. Harold Priestley, of Bare Lane, and Mr. Martin Allen J.P. of Oxford Street, will advertise products of the Morecambe Trawlers Co-operative Society. Morecambe Bay shrimps will be sent each day for the British and overseas visitors to taste at the exhibition. Mr. R. P. Baxter, who with his wife travelled to London yesterday, will be in charge of the display.