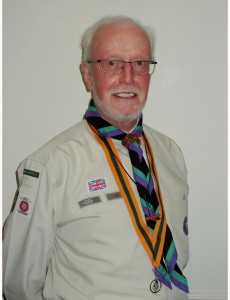 We were delighted to learn that Alan Hague has been recognised by H.M. The Queen in her New Year's Honours List with the award of the British Empire Medal.
With over 55 years in Scouting, dedicated to 16th Morecambe Scout Group, on Michaelson Avenue, Torrisholme, Alan has been an integral part of the success of Lonsdale District's largest Scout Group.
Alan's time as an adult in Scouting started as an Assistant Scout Leader at 16th Morecambe in 1960, before becoming a Scout Leader, roles which he held for over 50 years. As a Scout Leader Alan was renowned for his high standards and competitive edge which resulted in his Scouts winning countless camping, hiking and activity competitions.
Alan has used his vast experience to help others too, serving as a District Nights Away Advisor, supporting new leaders taking young people away camping for the first time, and has served as a District Scout Leader – supporting the team of Scout leaders across Lonsdale's 24 Scout Groups. Recently, upon his retirement as Scout Leader, Alan became the District Secretary assuming responsibility for the administration of the organisation in Lancaster, Morecambe and the surrounding area.
Craig Dewar, District Commissioner said, "Alan's service to Scouting continues to be of the most exceptional nature, he is dedicated and passionate and does everything to the highest standards. A true testimony of his leadership is reflected in the number of young people, who were once his Scouts, who have now returned as leaders. The award of the BEM is well deserved and reflects the high regard that everyone involved in Lonsdale District Scouts has for Alan."
Lonsdale District Scouts offers adventurous activities to boys and girls aged 6-18, with hundreds of adults volunteering to support their development and the management of the organisation. The District has enjoyed a period of rapid membership growth in recent years. To get involved visit www.scouts.org.uk or call 0845 300 1818
Craig Dewar
District Commissioner
Lonsdale District Scouts
3 Moor Street, Lancaster, LA1 1PR
E: dc@lonsdalescouts.org.uk W:www.lonsdalescouts.org.uk