The Bowlander is a competition for teams of 4/7 Scouts, which tests hiking and map reading skills to a high standard. It is not a race, but an all-round assessment of skills and stamina on a pre-determined route.
Teams are required to plan a route, visiting a number of checkpoints, and have to arrive at each within a limited time window based on their estimated timings within their Route Plan.
29 teams from all around West Lancs competed to take home the magnificent trophy made by the late Max Melling, former District Commissioner for Morecambe & Heysham. 2 teams from 1st Forton and one from 16th Morecambe took part.
The teams reported to the start point at Little Town Farm near Longridge on Saturday 9 April to commence their journeys. The weather was perfect with light winds, clear skies and warm sunshine. After having an equipment check, they set off to navigate their route of 12 miles going via Knowle Green, Longridge Golf Course, Hesketh Lane, Chipping, across the runway of Bowland Forest Gliding Club, Blindhurst and on through Bleasdale and down the Brock to Waddecar Campsite, Inglewhite where they camped for the night.
The teams awoke early on Sunday to a clear cold morning – perfect for walking. A further route of 6 miles was followed on Sunday taking the Scouts via Beacon Fell, Whitechapel, Brock Bottom, and Brockmill and back to Waddecar. When all the marks were added up the team from 16th Morecambe came out as winners.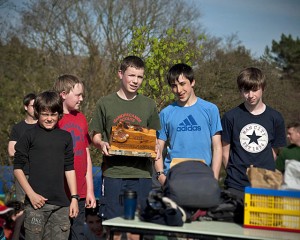 Congratulations to them on an excellent performance and for keeping Lonsdale's flag flying. Thanks to the organising committee of the event for another well-run and enjoyable experience.