Frederick Guy Trevenen Adams was born 27 Oct 1880 in Croydon, Surrey
In the 1881 Census he is living at 20, Sydenham Road, Croydon, Surrey – his father being Frederick Glynn Adams born in 1853 in Uffculme, Devon, a Solicitor; his father Frederick Morice Adams b. 1826 was Curate of Uffculme.

In 1901 the family has moved to 10, Tavistock Road, Croydon, Surrey:-
Frederick G T Adams Single age 20 Civil Engineer Student.
And in 1911 they are at 9 Westgate Road Beckenham, Kent:-
Frederick Guy Trevenen Adams Civil Engineer age 30.
Frederick seems to have been married twice, once in 1911 "Marriages Sep 1911 Adams Frederick G T Bromley 2a 1159" and again in 1925 "Marriages Jun 1925 Adams Frederick G T to Rose E Trinder Headington 3a 2416"
In 1939 he is living at 4 Castle Park , Lancaster:-
Frederick G T Adams born 27 Oct 1880 Chartered Civil Engineer (Railway) District Engineer LMSR Married.
Frederick died in Lancaster on New Year's Day 1952 – see his obituary below.
Morecambe Guardian 15 June 1940:-
Life saving
The work of Mr. J. Dodds Drummond in connection with life saving in Lancaster has been recognised by the Royal Life Saving Association.
The Executive Council of the Association have awarded him a certificate of thanks in appreciation of his furthering the cause of life saving in the City and district.
Mr. Drummond, who is headmaster of the Friends' School, is the honorary representative for Lancaster on the Royal Life Saving Association Council. During his seven years in this capacity, Mr. Drummond has seen the life saving movement in Lancaster grow from quite a small affair to something which plays quite a large part in swimming circles.
Up to two years ago the Lancaster Swimming Club did not take a keen interest in life saving. Since, however, this important work has grown to such proportions that they now have many instructors, and numerous pupils have gained proficiency certificates.
Another section of the community taking a keen interest in life saving is the City Police, who now have their own instructor, and have gained many high awards.
Mr. F. G. T. Adams, of the LMS Railway Co., has shown his interest in life saving by presenting a silver cup to the local Boy Scouts for annual competition.
Good work is done each year at the Royal Grammar School, and at Mr. Drummond's school there are already twenty members of the life saving club.
Two well-known instructors who have done much to further lifesaving in the City are Mr. R. Todd and Miss Shipley, who have put in a tremendous amount of work.
Morecambe Guardian 05 January 1952:-
Passing of Mr. F. G. T. Adams
WIDELY-MOURNED in all spheres of the Lancaster City's life will be the sudden passing on New Year's Day of Mr. F. G. T. Adams, of Bushell Cottage, Priory Close, Lancaster.
A Cornishman (sic), Mr. Frederick Guy Trevanen Adams came to Lancaster on August 1, 1919, when he was appointed assistant to the Northern Divisional Engineer, the late Mr. J. H. Thurstan, on the then London and North Western Railway.
A man of wide interests outside his own profession, Mr. Adams took a prominent part in the life of the City. He leaves a widow to whom widespread sympathy will be extended in her sudden bereavement. There is no family. A memorial service was held on Friday morning at the Priory and Parish Church.
Church activities
A keen churchman, Mr. Adams was Vicar's Warden of the Lancaster Priory and Parish Church from 1938 to 1951 and during those 13 years of devoted and happy service he brought not only wise counsel but practical knowledge to bear on the duties which his office entailed. He was also actively associated with the work of the Friends of the Priory and did much practical work in aiding its object – the preservation of the Priory fabric.
He commenced his railway service as a premium pupil under Mr. E. B. Thornhill, Chief Engineer of the London and North Western Railway at Euston, in 1901. From 1904 to 1906 he was assistant engineer on various important new railway works. From 1906 to 1908 he was resident engineer on the Red Wharf Bay new railway, Anglesey ; from 1907 to 1910 he served in a similar capacity on Ynyrddn new goods yard ; in 1911 on the important Armitage to Rugeley widening of the main line and from 1912 to 1913 on the Warrington Bank Quay alterations. From 1914 to 1915 Mr. Adams had oversight of the construction of new works at Huyton Quarry and Ellesmere Port new goods yard.
War service
Gazetted as Lieutenant in the Royal Engineers in 1916 he was almost immediately posted overseas and saw war service in the Middle East until July, 1918, and was demobilised in 1919 with the rank of Major.
In 1919 he became assistant to Mr. Thurstan at Lancaster, and succeeded him as District Engineer of the newly constituted London, Midland and Scottish railway, after the railway amalgamation in 1923. He held that position until his retirement on January 31, 1942.
Universally admired and respected by all grades of the railway service Mr. Adams was always keenly interested in the welfare of all railwaymen and was one of the most popular and loved officials. From its inception he was a member and took a keen interest in the progress and administration of the "Old Lancastrian's Association," an organization of old railway servants who had served in the Lancaster area. He was a prominent attender at its business and social reunions.
Co-founder of the Footlights Club
When the Lancaster Footlights Club was founded in 1921 he was one of the original members and became a talented and popular playing member and producer of many of its undertakings. He was also associated with a talented concert party which raised money for many charitable objects under the title of "The Roving Friars." For many years, too, he was a member of the Lancaster Orchestral Society. He was engrossed in music and dramatic art.
Another City organisation that commanded his active support was the local Boy Scouts Association which he served as an official for many years. A keen swimmer and regular attender at the City's baths he took a leading part in fostering amateur swimming and was especially active in the organisation of the Scouts' annual swimming gala.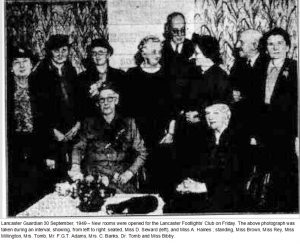 Craftsmanship
Both at his former residence "The Precinct," Castle Park, Lancaster, and at Bushell Cottage, he maintained a well-equipped workshop from which emanated book-cases, stools, and toys of ingenious construction which he delighted to present as gifts.
An enthusiastic gardener he created at "The Precinct" a garden which had unforgettable charm in its old English style.
With Mrs. Adams he shared a talent for photography and an aptitude for lighting on the perfect caption for each picture.
Of him it could be truly said that he was, to quote more than one of his sorrowing colleagues, "a true and much loved Christian."