Lancaster Association Secretary 1937-1944.
Frederick Herbert Capstick was born 10th March, 1875 in Kendal.
His wife Emily was born 27 September 1893.
In 1881 Frederick's family is living at 7 Castle Crescent, Kendal. His father Thomas Capstick was a Dyer. Thomas and Mary have 5 sons and 6 daughters.
In 1891 the family is still at 7 Castle Crescent where Frederick, age 16, is a Clerk.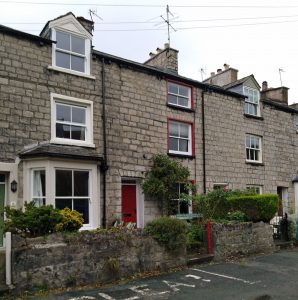 In 1901 Frederick is boarding at Main Street in Sedbergh and is now a Bank Manager.
Lakes Chronicle and Reporter 16 September 1903:-
Shooting Competitions.
Two shooting competitions were decided, on Saturday, at Kendal, in connection with the Westmorland Volunteers – one for a challenge cup given by Capt. Rigg M.P. and the other for a cup presented by Col. Withers. Eight teams entered, Appleby being the only absentee. The scores in the Rigg competition were as follows : – (listed)
The same afternoon Sergt. F. H. Capstick (Sedbergh) and Sergt. Braithwaite (Staveley) shot off their tie for the Lord Lieutenant's cup, and with three bull's-eyes to two bull's-eyes and an inner Sergt. Capstick proved the winner.
Millom Gazette 22 July 1904:-
THE BANK OF LIVERPOOL, LIMITED.
BRANCHES.
(includes) Also in late Wakefield, Crewdson & Co.'s District, viz:-
SEDBERGH … … … F. H. CAPSTICK, Manager
SUB TO SEDBERGH:- Dent.
Leeds Mercury 02 September 1905:-
Westmorland County Rifle Meeting.
The annual county shooting competition in connection with the Westmorland Volunteers was held at Kendal on Thursday, when there representatives of the corps from all the companies in the county, and some good shooting was witnessed, the record for the meeting being broken by Sergt. F. H. Capstick (Sedbergh). The conditions were seven shots each at 200, 500, and 600 yards, and seven each again at 200 and 500 yards.
The scores were as follows: –
Open competition. – Sergeant F. H. Capstick (Sedbergh), 161; Sergt. J. Boak (Kendal), 157; Colour-Sergt. Atkinson, (Kendal), 154 (continues . . .)
In 1911 he is living with his Sister Florence Annie and brother in law John Herbert Taylor at 16 Highfield Villas, Kendal and is now a Bank Cashier.
Records show that Frederick enlisted for the 2nd Volunteer Battalion 4th Border Regiment at Sedbergh on 7 January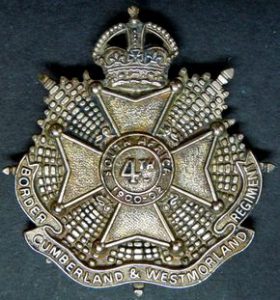 1899 and subsequently enlisted at Kendal in the 4th Cumberland & Westmoreland Battalion The Border Regiment Territorials on 1st April 1908, re-engaging on an annual basis and latterly being a Sergeant Reg. No. 408 re-engaging for two years on 10 March 1911. He attended Annual Training Camps during this period at Fleetwood, Conway, Barrow, Dolphinholme, Skipton and Caernarvon. He was promoted Regimental Quartermaster Sergeant on 1 September 1915 being re-engaged for the duration of the war.
He was discharged 15 March 1918 and accepted for appointment to the Indian Army Res of Officers at Simla. On discharge his records list a wife Emily Capstick c/o Bank of Liverpool, Kendal. He was awarded the 1914-15 Star, British War Medal and Victory Medal. He was appointed to Commissioned rank 15 March 1918.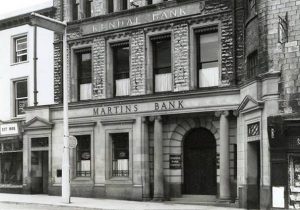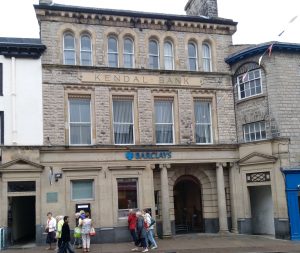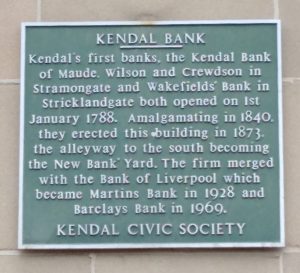 It was whilst in the Far East that he married Emily Owens on August 19th 1916 at All Saints Church Maymyo – he was 41 and she 23 years of age. His occupation on the marriage record is Bank Cashier. They were both living at Maymyo in Burma.
An article from the Lancashire Evening Post of 8 May 1930 records that Frederick and five others were each fined 15s. for keeping dogs without licences – his details "Frederick H. Capstick, "Belvoir" Higher Greaves;
Lancashire Evening Post 27 June 1930:-
RADIUM APPEAL.
Lord Derby's appeal . .
. . . Donations may be sent to Mr. F. H. Capstick, Martins Bank, Lancaster
In 1939 they were living at 31 Belle Vue Terrace, Lancaster. Frederick is recorded as a Retired Bank Manager and he is Assistant Deputy Controller ARP Lancaster.
Lancaster Guardian 09 August 1946:-
SEVENTY YEAR-OLD SHOT
Well known in Lancaster Mr. F. H. Capstick, who until his retirement about 10 years ago was the manager of the Lancaster Branch of Martins Bank for some years, has been successful in various competitions at the National Rifle Association's meeting at Bisley.
His full successes are: – Awarded Donegal Bronze Badge at 300, 500 and 600 yards ; scored 49 out of 50 in the "Times" competition at 200 yards; 46 in the "Daily Mail" competition at 500 yards; 46 Wimbledon Cup at 600 yards; 141 in Stock Exchange aggregate when 144 was the top score averaged over inners in Duke and Corporation prize for 10 shots each at 900 and 1,000 yards; 98 in King's Prize at 200, 500 and 600 yards, 69 out of 75; won the King George Prize at 300 yards first stage; and 67 out of 75 at 900 yards, in second stage; won the King's Veteran Prize for over 65's after a tie shoot at 600 yards. A member of the India Rifle Club he was awarded the championship gold jewel for best average shooting by three points.
In spite of the heat and sweat which caused him to be constantly cleaning his spectacles Mr. Capstick put on 34 in a sweep at 200 yards and in the City Rifle Club shoot secured a "bull" with every shot. "Then they call this pleasure" is Mr. Capstick's own description of the meeting: "A remarkable achievement for a man of over 70 years of age" is my description of his shooting.
Lancaster Guardian 23 December 1955:-
North Lancs. Motor Club
Annual meeting report, includes – Officers elected were:- assistant secretary and treasurer Mr. F. H. Capstick.
Member Rowley Lodge of Freemasons.
Frederick died in Lancaster in 1962.
Lancaster Guardian and Observer, June 15, 1962:-
Deaths
CAPSTICK. – On June 8, 1962 at "Bel-Voir, 31 Higher Greaves, Frederick Herbert, beloved husband of Emily Capstick and father of Gordon, Harvey and Alan. In his 88th year.
OBITUARY
Bank manager who was Bisley marksman dies
A former Lancaster bank manager, Mr. Frederick Herbert Capstick, died at his home in Higher Greaves, Lancaster, on Friday last week aged 87.
A native of Kendal, Mr. Capstick was educated at the British School there and as a boy, he worked for a short time for Mr. John Bolton, a Kendal solicitor. At 15 he joined the Kendal staff of the old Wakefield and Crewdson Banking Company, and later joined the Bank of Liverpool, which later became known as the Liverpool and Martins and eventually Martins Ltd..
At 22 he was manager of the Sedbergh branch of the bank, and in 1920 he became manager of Martins Bank at Lancaster, where he served until his retirement in 1935 after more than 43 years banking service.
As a territorial with the 1st Battalion 4th Border Regiment he was called up for service in World War One. In 1916 he met his wife in Upper Burma where they were married. He was a member of the British Commonwealth Rifle Club, which later became known as the India Rifle Club.
An expert marksman, he was a regular competitor at Bisley for more than 50 years and in 1946, when he was over 60 years of age, he won the King's Veteran Cup.
For many years Mr. Capstick was a member of Lancaster Golf Club when they played at Dolphinlee and then at Ashton Hall, but he gave up the game at the outbreak of the last war, when he served at the local ARP Control Centre.
He leaves a widow and three sons, two of whom have held appointments abroad in India and America. His younger son is a dentist in the south of England.