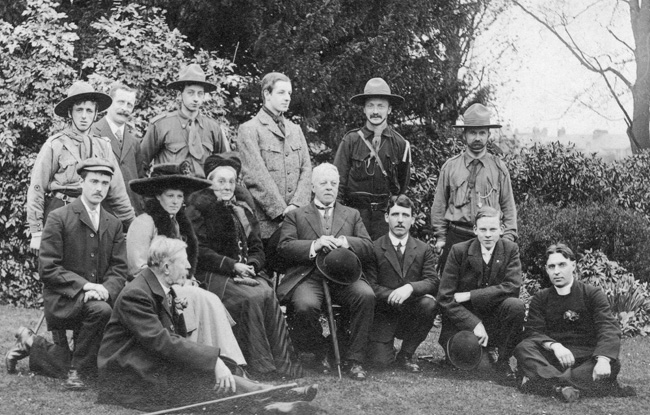 Newspaper reports indicate that Dick Erskine (top left in the above photo from 1911 showing a group of Scoutmasters behind the District Commissioner, William Garnett) was the Scoutmaster of the 1st Lancaster Troop, but, to date, I cannot find any reference to where the 1st were based.
From reports elsewhere on this site it would appear that the 1st Lancaster Troop was not the first to be formed in Lancaster but was presumably the first to be registered with Scout Headquarters.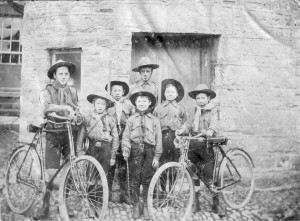 Scoutmaster John Richard (Dick) Caton-Erskine (centre), perhaps William Atkinson Wolfendale (left). Lawrence & Hector Todd are 4th and 5th from left – they look very young!
Dick was the son of John Richard & Betsy Erskine nee Caton formerly of 54, Hope Street and 39 Prospect Street; He was born on June 22, 1889. "Baptism: 21 Aug 1889 St Anne, Lancaster, John Richard Caton – [Child] of Betsy Caton Abode: Moor St. Occupation: Spinner." John (Snr) was a soldier, a drummer in the band, with the 2nd Battalion, King's Own Royal Lancaster Regiment who died in the Boer War and is commemorated on the South African War Memorial 1899-1902. The names of the fallen are recorded in the Regimental Chapel of the Regiment in Lancaster Priory Church. This memorial records the names of 18 officers and 264 other ranks. John died July 24, 1900 in Pietermaritzburg, KwaZulu-Natal, South Africa
Cause of death: Peritonitis.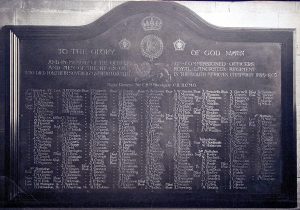 Returning to Dick, he also served in the forces:-
British Royal Navy Seamen Records (Findmypast):-
PORTSMOUTH M.4452
John Richard Erskine Date of Birth 22 June 1890; Place of Birth Lancaster; Occupation Ships Store keeper at Shipbuilders Yard
Date and Period of Engagements: 22 May 1912 – 12 yrs. Age: F.E. Height: 5 Ft 3½ in. Chest: 34¼ In. Hair: Dk Bro. Eyes: Blue. Complexion: Fresh
His record indicates that he was a SBA (Sick Berth Attendant) at various shore bases including Haslar Hospital, Gosport and the Malta Hospital.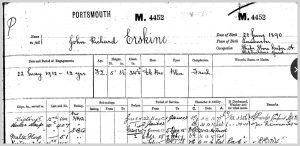 In 1939 John is listed as a Male Nursing Orderly at St. George's in the East Hospital, Raine Street, Wapping, London E1, working for London County Council.
There is a death registration record for a John Richard Erskine September quarter 1976 in Poplar/Bethnal Green. Whilst his date of birth does not tally viz. 12 June 1885, this could well be our man as there is no matching birth record for that year – in England, although this individual could have been born in Scotland or Ireland.
Lawrence Todd was born c. Sept 1901, Hector was born 8 Jan 1900 at 25 Norfolk Street. If the date of the photo is correct this makes those two 7 and 9 respectively.
In the 1911 Census the family is living at 24 Thurnham Street, Lancaster. Their father Joseph Todd was a Life Assurance Agent born in Bradford.