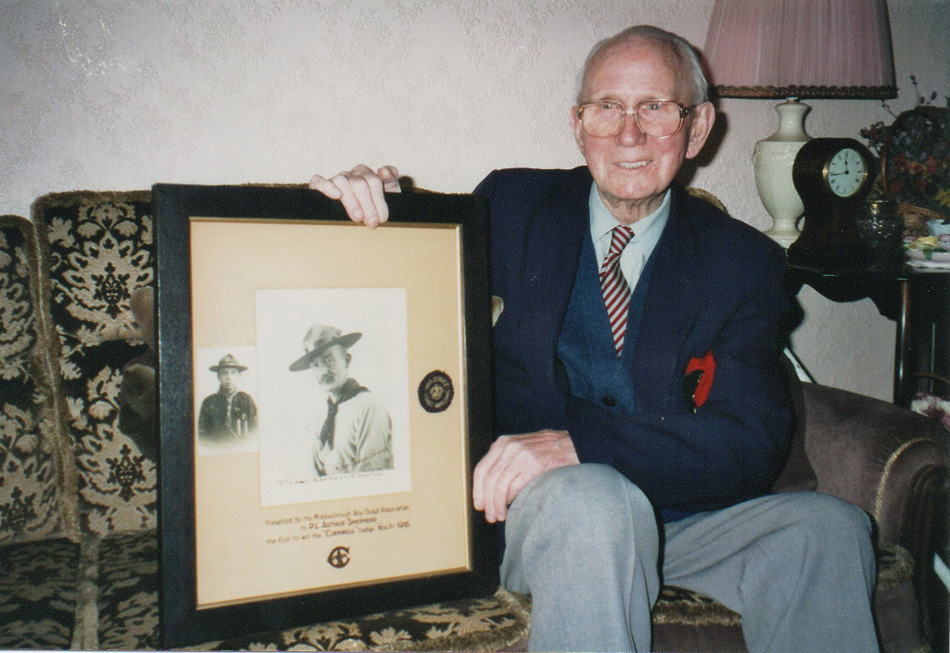 Arthur Shepherd (aged 94), the first recipient. Photo © Alan Hague
The Cornwell Scout Badge is an award presented to Scouts in respect of pre-eminently high character and devotion to duty, together with great courage, endurance or gallantry. It is granted only to Scouts under the age of 18 who have an outstanding record of service and efficiency.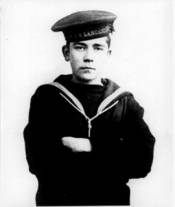 On June 2nd. 1916, a Scout whose name has become a part of Scouting died in Grimsby Hospital – Jack Cornwell – he was 16 years old.
When he left school he became a van boy with a tea firm. When he was 15 he joined the Royal Navy, and in July 1915 he entered the Boys' Training Establishment at the Royal Naval Barracks in Devonport. In May 1916 he was appointed to H.M.S. Chester and acted as sight-setter on his gun, a most difficult and responsible position. He would receive his instructions by earphones from an Officer higher up who could see the target, and set the dials which governed the aiming of the gun.
It was World War I, and on May 31st. 1916, H.M.S. Chester was sent into action – the Battle of Jutland. The Chester engaged in battle with three or four enemy light cruisers. A salvo at short range swept the Chester's decks – the concentrated fire of all the guns of one of the cruisers, and it brought disaster to Jack Cornwell's gun crew. Every man was dead, dying or wounded – only Jack remained at his post, but his face was white and drawn. A shell fragment had struck him near the heart. He was dying. The battle raged on, but still he stood alone despite great pain, waiting steadfastly for orders in case he might be wanted. The battle ended, and he was carried below.
He was buried with full naval honours. A thousand Scouts attended his funeral and he was awarded the Victoria Cross.
The highest award for valour in the Scout Movement – the Bronze Cross, was awarded to him and sent to his parents by B.-P. He was an ordinary boy, full of jokes and plans, but he kept his Promise, to do his duty to the King, just as Scouts have promised to do their duty to the Queen today.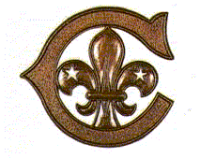 Since his death the Cornwell Scout Badge (sometimes known as the Scouts V.C.) has been awarded in his memory. All through Scout training the Scout Promise and Law is mentioned to try to show that it is part of how we live, not just something we say. Jack Cornwell kept his Promise – have we kept ours ?
The Times (London, England), Monday, Jul 31, 1916
© Times Newspapers Limited
The Times (London, England), Thursday, Nov 28, 1968; pg. 12
© Times Newspapers Limited
Cornwell VC photo
Read more about Jack's family background here Bill Bayliss
BBC Your Paintings:
Painting "The Battle of Jutland" by Charles Dixon, Blackburn Museum and Art Gallery
Painting "John Travers Cornwell (1900–1916), VC" by Frederick William Elwell, North East Lincolnshire Museum Service
Arthur Shepherd
Scouts "C" Badge
"Middlesbrough Boy First to be Awarded One
His Splendid Courage"
"To the many awards which Scouts are privileged to win, a further one has been added. This is known as the "C" badge, and although it is quite devoid of lavish embellishments it will be one the most treasured prizes.
It has been instituted in memory of the boy-hero Cornwell and the applicant must pass the following tests.
1. A test in physical courage, or as an alternative :-
a) Hold an award for bravery for having saved life under exceptional circumstances.
b) Have undergone suffering in a heroic manner.
2. Must be a First Class Scout.
3. Must obtain a really good report from his Scoutmaster and some independent responsible person for:-
a) Industry and effort.
b) Obedience and discipline.
c) Trustworthiness.
d) Punctuality in attendance.
e) Smartness in bearing, kit, and appearance.
4. Must have passed the Missioners Badge.
5. Must have passed two of the following badges:- Boatman, Pilot, Sea Fisherman, Signaller, Starman, Swimmer or Rescuer, Watchman, or must have the Public Service Coast- Watching Badge, that is have been on coastguard duty at least 100 days.
The severity of the test makes the feat all the more meritorious, and the people of Middlesbrough will learn with pride that one of her sons, Patrol Leader Arthur Shepherd, of the 8th Troop and who resides at 163, Union Street, has had the distinction of being the first to win the award, which was personally presented to him by the Chief Scout General Sir R. Baden- Powell, at last nights meeting of lads.
Leader Shepherd has displayed splendid courage on more than one occasion. He was on coastguard duty at Whitby at the time the Rohilla was wrecked. The Scouts turned out in the early hours of the morning, and on their own initiative made a fire and coffee. For two or three days and nights they were on the scene, assisting in the work of rescue, displaying great gallantry, for which they were highly commended by the Admiralty.
Their duty necessitated their traversing dangerous cliffs during the height of the gale, when the slightest slip would have been fatal, but they did the work right well.
The recipient was also at Whitby when the Coastguard Station was shelled by German vessels and showed the greatest pluck and coolness.
As the Chief Scout remarked Middlesbrough has good reason to be proud of Patrol Leader Shepherd."
Photos: Alison Brown 2017
* Read an interesting account of the meeting where the badge was presented.
Whitby Gazette 10 November 1916
MIDDLESBROUGH SEA SCOUT HONOURED. –
On Wednesday night, last week, about three thousand Boy Scouts and Church Brigade Lads were addressed by the Archbishop of York and General Baden-Powell. The proceedings were marked by an interesting ceremony, one of the lads being presented by General Baden- Powell with the first of the new badges, called the "C" badge, of bronze, in honour of Jack Cornwell, which had been instituted for conspicuous service.
The recipient was Arthur Shepherd, of St. Paul's, Middlesbrough Troop, who, in face of great difficulties, when acting as a Sea Scout, carried rockets for the Coastguard on the occasion of the wreck of the hospital ship Rohilla, at Whitby.
The Daily Gazette for Middlesbrough 21 November 1916 records that Arthur was presented with a commemorative silver watch, chain, medal and address from his workplace on 20 November 1916, Messrs. W. Shaw & Co., Wellington Foundry.
The First "C" Badge for Courage
Extract from Headquarters Gazette December 1916
By the Editor
"I must have a Badge for courage," I said to Mr. West at Headquarters a few weeks ago.
"I'm sorry Mr Elwes," Mr West replied "but they are not for grown-up officers. "Oh, it's not for myself," I replied, laughing, "I am sure I should never be entitled to one, but it's like this. The Chief is going up to Middlesbrough tomorrow to address a mass meeting of boys in connection with the National Mission. He has promised me that, before the meeting, he will examine Patrol Leader Shepherd of the 8th Middlesbrough Troop. Shepherd holds the First-class, Missioner's and Coast-watching, badges, and the character report from his Scoutmaster, schoolmaster, and employer are excellent The only question now is as to the test of courage. The accounts I have received of what he did at Whitby are fine, and I think the Chief will be satisfied when he has had a talk with the boy and his Scoutmaster – so I have got an idea. If only you will produce a badge, Mr. West, we will hand it to the Chief, then if he thinks fit he can present the badge at that great meeting of boys.
There was only one badge in existence at that time – the sample one, and it had been sent back to the makers, but Mr. West rose with energy to my idea – the sample badge was recovered in time from the makers and delivered to the Chief, and so it came about that, on the following evening, at a meeting of 3,000 boys with the Archbishop of York in the chair the Chief presented Patrol Leader Shepherd with the first Cornwell Badge of courage. "And how those 3,000 boys cheered," said the Chief to me next day. "I believe every one of them wished he was a Scout."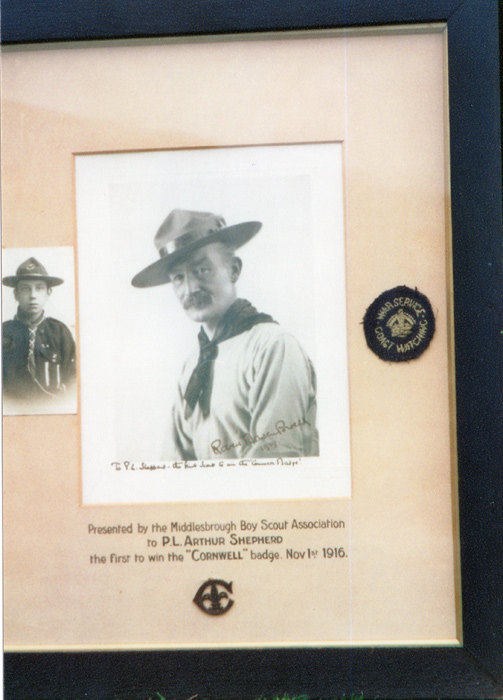 © Alan Hague
Photo (above) taken in 1994 by the Webmaster of the actual photograph presented by B-P to Arthur Shepherd. Frame also holds the First Cornwell Badge itself and Arthur's War Service Coast Watching Badge.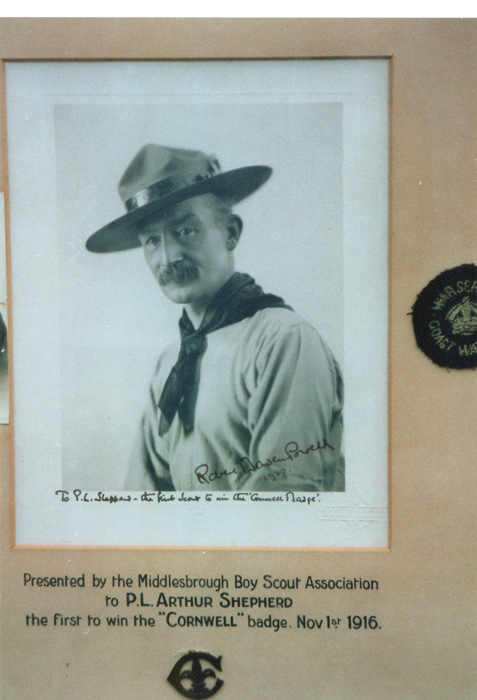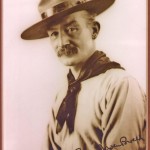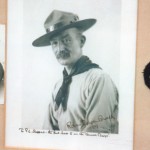 © Alan Hague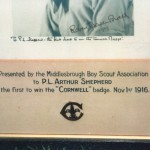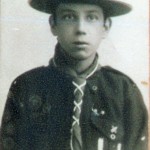 The test of courage Patrol Leader Arthur Shepherd had gone through was this. When the "Rohilla" was wrecked on the rocks at Whitby (in 1914), Leader Shepherd was on coast-watching duty there with the Patrol. The Scouts turned out with the coastguards in the dark in the early hours one morning, and they were hard at work, with only short intervals for rest, for the following three days and nights, wet through, with a gale blowing, trying to rescue drowning men and recovering bodies.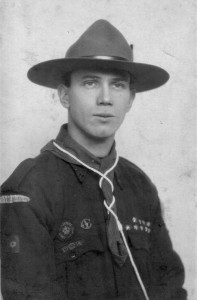 At one time the Scouts waded into the surf with a life-line to get hold of drowning men. But the most dangerous part of the work in which Leader Shepherd took part was going with messages for the coastguard officer and bringing supplies of rockets from the coastguard station.
In doing this he had to make his way along the face of the cliff by a very, narrow and slippery ledge of rock which overhung the sea and was washed by the waves. He had to do this alone, with a gale blowing, and in the dark, when a false step or a slip meant death. But he did it, and did it several times.
And that was how he proved his pluck. But another test of it was given when the German men-of-war bombarded Whitby. The Scouts had just got back when the shells came flying in and bursting about the place.
Instead of hiding away in the cellar, they at once ran back to the coastguard station to see if their services were needed. One Scout was hit and afterwards lost his leg, and the rest were described by the coastguard officer as so cool and brave that "the Germans might have been firing at them with peashooters for all that they cared." And Leader Shepherd was one of these, plucky and ready to do any duty that he might be called on to do, even under most unexpected and dangerous fire of heavy guns. Well, don't you think he did fine work and helped to bring honour to all Scouts?"
Arthur's story continues in Lonsdale District . . .
The Lonsdale Scout District Connection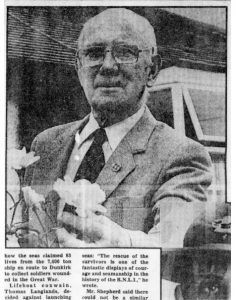 In later life Arthur worked for Imperial Chemical Industries (ICI) and when he changed his place of employment to the factory at Heysham he came to live, firstly, in Overton, near to his work and later in Colwyn Avenue, Bare in Morecambe.
The Scouting connection had continued as Arthur became Chairman for a number of years of the 1st Overton (St Helen's) Group.
The 16th Morecambe Troop briefly entered into this story in 1993. The District Chairman had received a letter from Arthur's niece asking if a local Group would do a "good turn" by tending to the garden of the bungalow in Bare, as Arthur, now 94, had had to move back to Middlesbrough. This they gladly agreed to do and that is when they became aware of this piece of Scouting history.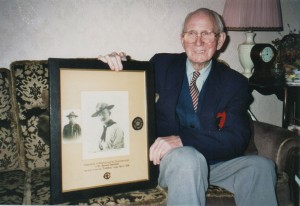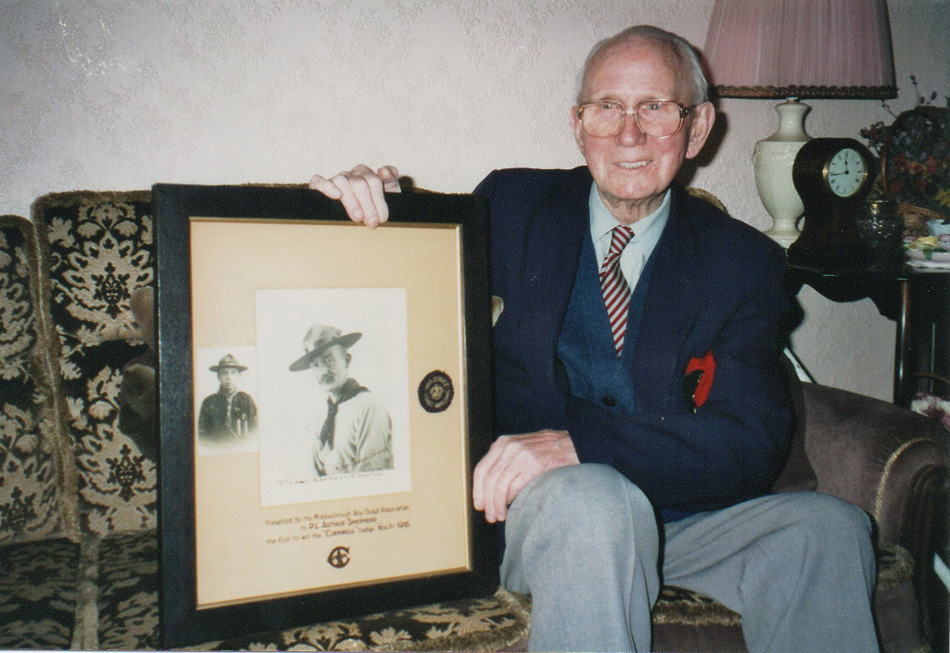 As a footnote, fascinated by this story, the writer arranged to visit Arthur at his niece Judith's home in Nunthorpe in 1994 where I was privileged to meet them both and to take some photographs of the first Scout to receive the Cornwell Badge together with his badge and framed mementoes. A great honour. When asked of any memories of the Founder he commented that his language could be very rough at times – surprising perhaps, but then again perhaps not so from a soldier of many years campaigning.
Arthur's niece told me on one occasion that one great ambition that Arthur confidently expressed from an early age was that he would live to be 100. He almost made it – Arthur passed away on 29 January 1995, aged 95.
2013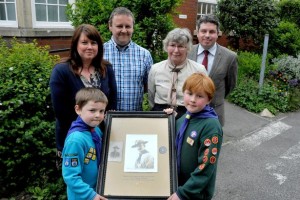 National fame for Middlesbrough Scouting hero Arthur Shepherd
An original piece of Scouting history has been handed over to the association's national archive
The first-ever Cornwell Badge, described as the Scouts' equivalent of the Victoria Cross, was handed to Middlesbrough man, Arthur Shepherd, in 1916.
Since then it has remained with his family.
Now Arthur's great nephew, Andrew McCall-Smith, of Linthorpe, agreed to give the badge to the Scout Association.
Handing the family treasure over at a meeting of St Barnabas 15th Scouts he said: "It's a bit poignant."
It seemed apt that his own sons, Louie, nine, and Oscar, seven, a Cub and Beaver themselves respectively, along with his wife, Michelle, were by his side.
A young patrol leader, Arthur was presented with the rare accolade for his work helping ferry blankets and supplies to the shipwrecked men of hospital ship, the Rohilla, after it ran aground on the rocks near Whitby.
County training administrator Freda Ford said: "The Cornwell Badge was collected from the makers by Baden-Powell himself and brought to Middlesbrough to be presented to Arthur in Midddlesbrough Town Hall.
She said: "Middlesbrough has always been proud of this boy's achievements. I had the good fortune of meeting him when I organised a County Cub Day in Guisborough in 1986."
On that occasion Arthur gave a lively account of his role.
A replica of his award was later made and given to Middlesbrough Scout District headquarters, where it still hangs.
When Arthur died the original badge went to his niece, Judith, and then great nephew Andrew.
Accepting the badge on behalf of The Scout Association, archive and heritage manager Daniel Scott-Davies said: "We are thrilled to receive it, especially being almost 100 years since the event itself."
The original badge will now be kept in the Scout Association's archive at its headquarters in Gilwell Park, London.
The award was named after a young sailor, John Cornwell, whose bravery during WWI was won him the Victoria Cross.
Middlesbrough Gazette, 13 June 2013
Arthur Naylor Shepherd was born 30 October 1899 in Middlesbrough the eldest child of Arthur Shepherd and Emily Coatsworth. He was baptized at St. Aidan's, Middlesbrough on 16 Nov 1899, the family then living at 26 Albany Street. In the 1911 census Arthur (Snr) records his occupation as a Steelworks Craneman. They are living at 163 Union Street, Middlesbrough. Arthur (Snr) was born 1871 in Manchester to John Shepherd and Sarah Naylor. He was baptised at Collyhurst Albert Memorial Chapel on 16 Jul 1871 the parents then living at 99 Knightly St. Emily was born 1876 in Hamsterley, Co. Durham.
In 1939 Arthur was living at 2 Constance Street, Middlesbrough with his wife Dorothy née Varley (born 9 Mar 1898 in Selby, Yorkshire who he married in 1936 at Selby), when his occupation was Chemical Process Worker.
For more information see Into the Maelstrom: The Wreck of HMHS Rohilla by Colin Brittain