Brass plaque in the west end of St. Margaret's Church in Hornby, unveiled on 31 July 1921,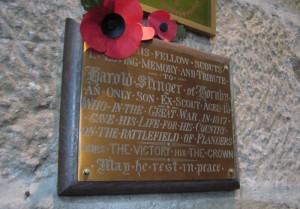 reads as follows:-
FROM HIS FELLOW SCOUTS
In loving memory and tribute
to
Harold Slinger, of Hornby,
AN ONLY SON AND EX SCOUT AGED 19,
WHO IN THE GREAT WAR IN 1917
GAVE HIS LIFE FOR HIS COUNTRY
ON THE BATTLEFIELD OF FLANDERS
OURS THE VICTORY HIS THE CROWN,
May he rest in peace
Hornby: St. Margaret's Church & War Memorial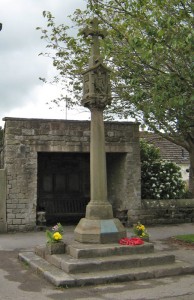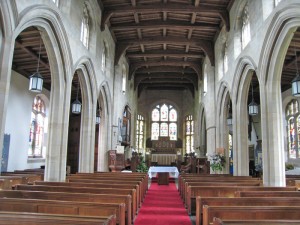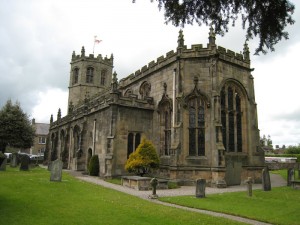 Lancaster Guardian. Friday, January 25, 1918
HORNBY SOLDIER REPORTED MISSING
Mr. and Mrs. Slinger, Main-street, Hornby, have received official information that their son, Pte. Harold Slinger, of the Household Battalion, is now posted as missing from October 12th. His officer writes:- "He went out with the battalion on the morning of October 12th, and he was seen at a very advanced stage of the ground taken on that date." *
When last seen, proceeds the writer, "He was doing splendidly, along with his comrades, and I cannot say definitely what became of him. It is quite probable he was taken prisoner, and may be by this time far away from the theatre of war. I hope and trust this may turn out to be true, and that your mind may soon be put at ease as to his welfare. His loss is deplored in the company, where he was very popular, and all join with me in hoping that he is all right."
The chaplain writes:- " I have only just begun to act as padre to the Household Battalion, so I regret I can tell you nothing very much. His chums seemed to have admired him very much. He seems to have been a very sterling fellow, and he was acting runner for his officer when last seen in the advance, a job for which only the stoutest and best was selected. His chums tell me he was last seen advancing with them to the enemy lines. I do not wish to hold out vain hopes but there is the possibility that he may be a wounded prisoner. The Red Cross, I believe, have a method of discovery, and I think it is worth while getting in touch with them.
But the hope is very faint. Words are poor things to convey much in times like these, but please tell his parents how sorry we feel for them. It was one of the most desperate battles of the many fought, which ultimately drove the Germans headlong from the famous ridge. Victory is sometimes sad for us all.
May God give grace to his sorrowful parents to bear his loss."
Pte. Slinger was a member of the Hornby Castle troop of boy scouts. He did not like the thought of being a shirker, and joined up on October 22nd, 1916, as soon as he became eighteen, and went into training at Windsor, going to the front in April 1917.
Prior to enlisting he assisted his father in the business of saddler. He is an only son.
* 3rd battle of Ypres (Passchendaele)