Morecambe Visitor 4 August 1993 (Mike's Memories)
1951 – 1st Morecambe (St Laurence's)
Reads ""REMEMBER, you didn't get it from me," was the emphatic piece of advice – offered under pain of slow death – accompanying this photograph of the 1st Morecambe Scouts (St Laurence Church) in their soccer strip on Fairfield Road playing field in 1951.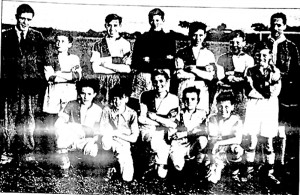 The lads in the back row are Walter Woodhouse, Keith Willacy (wasn't he on this page the other week) – this is a family newspaper, you know, Keith!), Henry Hilldrey, Steven Woodhouse, Alan Mitchelson, Alan Threlfall; front row Clifford Tallon, Jack Sawford, Alan Butler, Billy Proctor and Peter Wild.
Oh blow it, here's the name of the person who slipped me the picture . . . no, on second thoughts I daren't!
The Webmaster spotted the following photos (below) in Morecambe Library.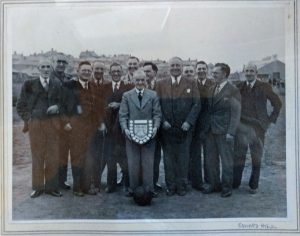 The caption for the photo below reads "TOC H Presented by W. Platten Esq. to the Boy Scouts Association – Knock-out Soccer Competition.
Winners 1948 – 13th Morecambe Troop
Winners 1949 – 1st Morecambe Troop."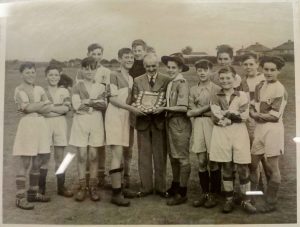 1st Morecambe 1949 Are some of the 1951 team also in this pic? – the goalkeeper has a similar appearance? – Answers on an email to alan.hague@lonsdalescouts.org.uk
Morecambe Guardian 28 May 1949:-
Scouts Soccer Final
TOC H TROPHY GOES TO 1st MORECAMBE TROOP
Second Half Goal Decided The Issue
1st Morecambe scouts 1, 4th Morecambe Sea Scouts 0.
A GOAL scored mid-way through the second half by 1st Morecambe Scouts gained them the Toc H trophy when they met 4th Morecambe and Heysham Sea Scouts in the final tie on Friday evening of last week. The trophy was presented to the Association by Mr. W. Plattern (sic), but was not ready in time for last year's competition won by the 13th Morecambe. Accordingly, a double presentation ceremony took place after Friday's game, the trophy being "awarded" to the 13th before being transferred to this season's victors. Each troop will hold the shield for six months.
The match was keen and interesting, with both teams playing exceptionally good soccer, warranting a much larger audience -particularly of Scouts. The winners should have been ahead at the end of the first half, but grand work by the 4th Morecambe goalie foiled the 1st forwards.
After WILDE had netted in the second half the winners obtained complete superiority and just before the end netted again but the point was disallowed for offside.
Teams: 1st Morecambe.-Hillerby, Tallon, Butler, S. Woodhouse, Willacy, Salford, Wilde, Procter, W. Woodhouse, Michelson and Threlfall.
4th Morecambe: M Greenough, Eastwood, J Harral, A. Bell, Cranfield, K Bowman.
Referee was Mr. Wilkinson, of Lancaster.
1939 Register (findmypast):-
42 Northumberland Street , Morecambe and Heysham
William Platten born 7 Mar 1877 in Sheffield Retired Shop Keeper
The trophy is on view today in District Headquarters.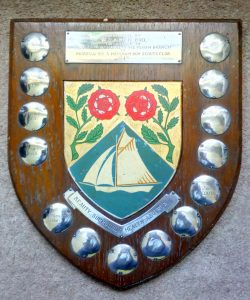 The inscriptions on it read as follows:-
Presented by W. Platten Esq
on behalf of Toc-H Morecambe & Heysham Branch
to Morecambe & Heysham Boy Scouts Club 1948
"Beauty Surrounds Health Abounds"
Winners:
1948 1st Scouts
1948 13th Scouts
1951 4th Scouts
1955 11th Cubs
1956-7 11th Scouts
No date 2nd Scouts