B-P's CENTENARY
The souvenir programmes produced for the commemorative week of events in Lancaster & Morecambe and Heysham to mark the centenary of B-P's birth.
In Morecambe these included a Scouts' Own service on Sunday June 23rd 1957 at the Central Pier (remember that?) Forebay, led by the District Commissioner Max Melling and Scoutmaster Albert Mortimer, Cub sports at Lancaster Road School playing fields on the following Monday evening, a swimming gala at Kingsway Baths (alas, also no more) on the Wednesday, Scout sports at Morecambe Grammar School (now Morecambe Community High) playing field on the Thursday, all rounded off by a Display and Pageant (see programme below) at Lancaster Road School on Saturday June 29th 1957.
Cost of the programme, one shilling (5p)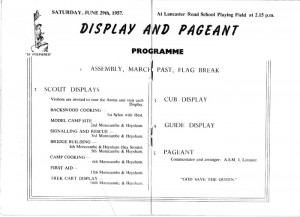 Groups participating were:-
1st Slyne with Hest, then based in their original wooden HQ behind the Memorial Hall in Hanging Green Lane
2nd Morecambe & Heysham, associated with the Salvation Army and meeting in their premises in Out Moss Lane (now the site of Morecambe Library). SM Albert Mortimer
3rd Morecambe & Heysham, Blackberry Hall – the old Hall was located at the top of Hale Carr Lane, now called Blackberry Hall Close, adjacent to the railway line).
4th Morecambe & Heysham, meeting in the basement (occasionally flooded at very high tides!) of Bare Methodist Church, on Seaborn Road
5th Morecambe & Heysham, HQ on Woodlands Drive, off Fairfield Road (near the Ambulance Station). SM Albert Sawley
6th Morecambe & Heysham, meeting in the old church on Middleton Road (complete with ceiling suspended gas heating!) – the 5th and 6th merged to form Centurion Scout Group
13th Morecambe & Heysham, attached to St Mary's RC Church – first aid always a speciality via SM Francis Middlebrook
16th Morecambe & Heysham, then based in the old Church Hall, a former Nissen hut behind the Ascension, in Lancaster Road, Torrisholme. SM Ronald Preston.
In Lancaster a Scout & Cub exhibition was held in the Lecture Hall at Lancaster City Library from 4th – 9th June 1957. "Depicting the wide range of Cub and Scout activities. Photographs and other records of Scout Personnel, Groups, and Events since the inception of Scouting in the Lancaster area. Displays of Cub Handicrafts; Scout and Cub Literature; Camping Equipment."
A Cub Sports was held at Acrelands on Monday, June 3rd at 6.30 p.m. ("If wet will be held on Tuesday"). Competition for Shield and Cup.
A Jubilee Year Display (see programme below) also took place on Giant Axe Field on Wednesday 5th June at 7.30 p.m.