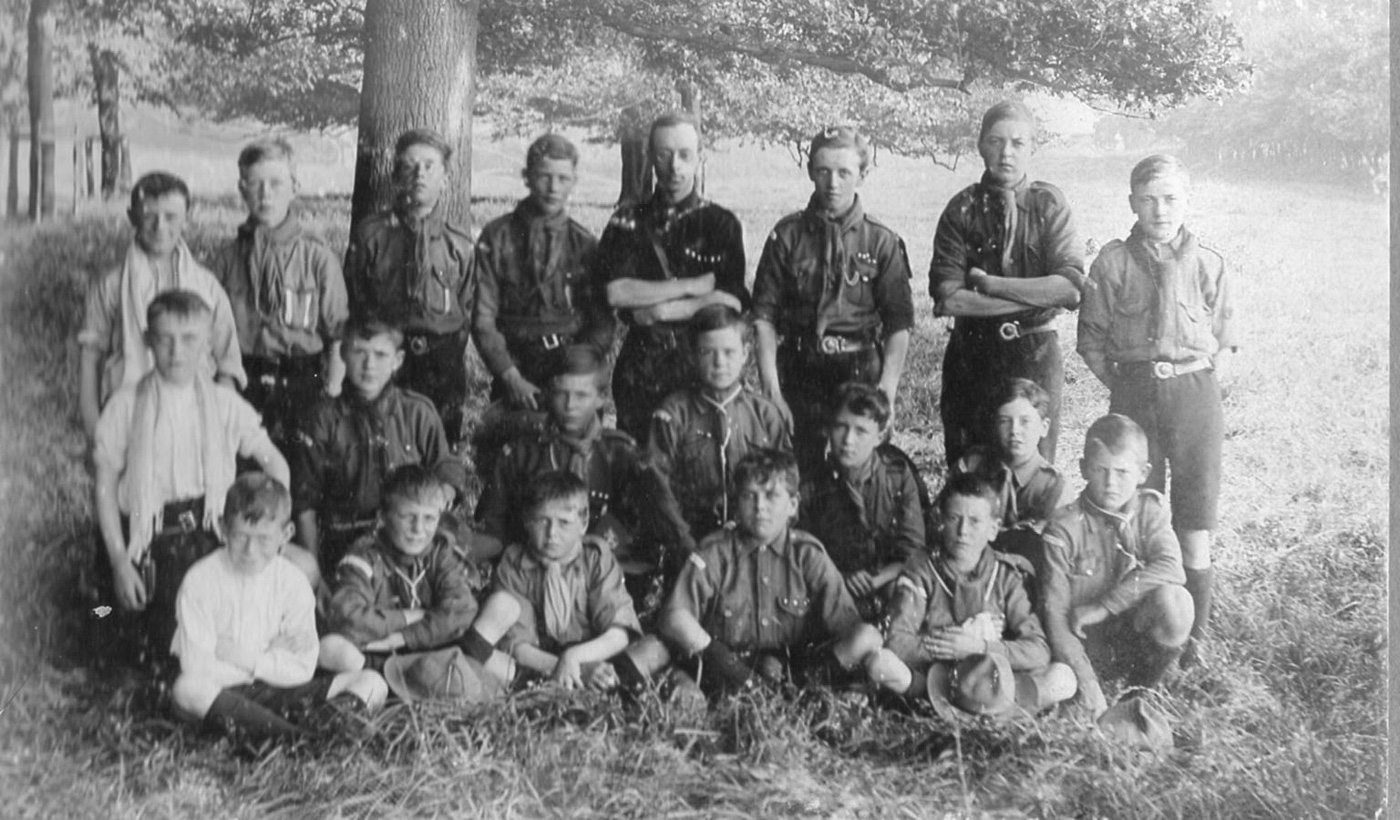 4th Lancaster (Wesley) Troop 1916
J. Bishop, Awarded Gold Cords
The Lancaster Guardian and General Advertiser for the Northern Counties, February 3, 1917
Scouting Notes. – Senior Patrol Leader J. Bishop (4th Lancaster) has been awarded the "Gold Cords." This is the highest distinction ever yet won by a Scout in the South Lonsdale district. Patrol Leader E. Isherwood (4th. Lancaster) has been awarded the "Red and White Cords," only four of those cords have been previously gained.

Badges :- Missioner (Examiner, Mr. Thompson, St. John Ambulance Brigade), H. Butterworth, A. King, R.Saltkeld, T. Kitson, F. Butterworth, J. Casson, H. Taylor, W. Craig, L. Brown, A. Isherwood, E. Wilson, W. Tiplady, 4th Lancaster; H. Wearing, A. Robinson, J. Cookson, E. Jackson, G. Topham, F. Barnes, T. Carradus, 7th Lancaster; Engineer (Examiner; Mr. C. Wolfendale ; Instructor; Engineer Simpson), L. Horner, A. Peddar, W. Rainford, J. Rainford, J. Barnes, G. Pegg, J. Cornthwaite, 5th Lancaster ; H. Wearing, 7th Lancaster; G. Cross, J. Hodgson, E. Isherwood, J. Bishop, J. Woodhouse, K. Webster, A. Isherwood, H. Taylor, H. Bartle, W. Craig, F. Bartle, 4th Lancaster. Fireman results held over till next week.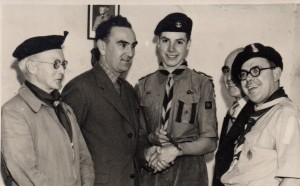 Jack was born on 24 July 1901 the son of William, a house painter born in Liverpool, and Mary Alice nee Lofthouse. In 1911 the family is living at 30 Lodge Street, Lancaster.
Lancashire Evening Post 19 June 1937:-
LANCASTER WEDDING
Girl Guides Form a Guard of Honour
Girl guides formed a guard of honour at the wedding in Lancaster Priory and Parish Church today of Miss Bertha Rignall, daughter of Mr. O. J. Rignall, the Lancaster stationmaster, and Mrs. (Kate) Rignall. The bridegroom was Mr. Jack Bishop of Blades-street, Lancaster.
Both bride and bridegroom are members of the Parish Church Sixteen Plus Club, and have taken part in the club's dramatic productions. Also they are members of the Parish Church Tennis Club.
The bride likewise is also actively connected with the Girl Guide movement in the city.
The Bishop of Lancaster (Right Rev. B. Pollard) officiated at the wedding and Mr. Paul Rochard was at the organ.
In 1939 Jack & Bertha were living at 8 Hala Grove. Jack is employed as a Commercial Clerk (Leather Manufacturer) and is listed as an Auxiliary Fire Service member.
"IN MEMORIAM"
Scoutarian Vol. IV. No. 2
December 1960
The following is a reprint of our appreciation of the late Mr. J. Bishop, inserted in the 'Lancaster Guardian' on Friday, 18th November, 1960.
We, and many others who knew him, mourn the passing of a loyal colleague, one for whom we had a sincere regard.
The death of Mr. Jack Bishop which occurred suddenly at his home on Sunday last, severed a link forged with local Scouting circles many years ago.
Attracted to the new game of Scouting for Boys, Jack Bishop sought his initiation with the 4th Lancaster (Wesley) Troop, and never lost his fondness for the game. He came to the Troop, formed in 1909, a few years after its inception. In 1917, Patrol Leader J. Bishop was awarded the Gold Cords, the highest distinction then to be gained by a Scout in South Lonsdale. He progressed to the rank of Assistant Scoutmaster.
Uniformed days over, Mr. Bishop devoted his talents to service in various lay capacities. He was the Local Association's Honorary Secretary for a period and in 1925 he was presented with the Medal of Merit in recognition of his good services to the Movement. : In 1930 he was a founder-member of the Committee which formed the 4th Lancaster Old Scout Branch (now the B-P Guild). In later years he became its Honorary Treasurer.
Mr. Bishop was a member of the L.A. Warrants' Committee which approves suitable applicants for Scouter leadership. For many years he served as Hon. Secretary to the 16th Lancaster (St. Paul's) Group Committee. He was in office with the Guild, the Warrants' Committee and the 16th Group at the time of his death.
In a quiet and unassuming way he brought a marked conscientiousness to all that he did and his pleasant personality will be much missed amongst us.
We extend our sincere and deep sympathy to Mrs. Bishop, Malcolm and David.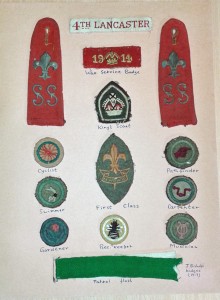 The circular badge (bottom middle) is actually the Thriftyman:-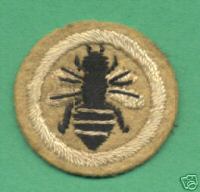 "At 16 years or over must have five War Savings Certificates, or be a member of the 'Scouts' Friendly Society.' The principle was that money should be genuinely saved by the Scout out of his earnings or pocket money."
The shoulder knot signifies the Peewit Patrol.