LORD BADEN-POWELL
Rousing Reception in Lakeland
OPENS SCOUTS' PARADISE
Distinguished Visitors Present at Memorable Ceremony
"With all these wonders for Scouts this is going to be a splendid place for them, and I trust that they will make every use of it in the coming years," said the Chief Scout, Lord Baden-Powell, when he came to Great Tower Plantation, on the heights above Windermere Lake, to take over the generous gift of the valuable tract of woodland made to the Boy Scouts Association by Mr. W. B. Wakefield. It consists of 240 acres, and the event made history, it being the first national camp of its kind where Scouts will be able to carry out a complete training in all the branches of woodcraft. Various leaders of the movement have expressed their warm approval of the site, which is regarded as well-nigh perfect for the purpose.
A WARM WELCOME.
Despite the wet weather numerous people assembled both at Blakeholm and Great Tower, for the arrival of the famous warrior, and when he stepped from his car after journeying by road from Nelson he was loudly cheered. Scouts from all parts fore-gathered to welcome their leader, and among those present were Lieut. Gen. Sir Matthew Fell, K.C.S., C.M.G., County Commissioner of North West Lancashire; Sir Hyde McGowan, Chief Scout and Governor, Central Province of India; Lieut.-Col. P. D. C. Johnston, D.S.O., County Commissioner for West Cumberland; Dr. W. E. Henderson, Chief Scout's Commissioner; Sir Samuel Scott, Bart.; Mr. F. J. Chamberlain GBE., secretary Y.M.C.A; Dr. A. W. Wakefield (of Everest fame); Mr. E. W. Hargreaves, District Commissioner, Cartmel district; Mr. G. B. Smeddles, District Commissioner, Windermere district; Mr. T. H. Blane, District Commissioner, Blackpool; Mr. W. Birkbeck Wakefield, Bisley (the donor); Mr. Impery, Sir Percy Everett, Col. Watson and Mr. Beresford Webb (editor of "The Scout"), representatives from headquarters; Capt. C. H. Michaelson, Verderer; Mr A. Pilkington, treasurer, Y.M.C.A; Major Ord, District Commissioner, Preston; Mr. Fitchie, County Secretary, N.W. Lancashire; Mr. J. Pattinson, District Commissioner, Barrow; Mr. Riley (editor, "The Arrow"); the Rev. Kemble, District Commissioner, Hawkshead; Miss Myers, A.D.C. Cubs, Preston; Mr. T. W. Helme, Assistant County Commissioner N.W. Lancashire; Lt. Col. Palin Dobson, Commissioner for the Cayman Islands, together with numerous officers and friends. Representatives of the Scouts were also present from Poland, Norway, Malaya and Hungary, while a strong contingent of Sea Scouts attended under Mr. G.B. Smeddles, and Scouts in camp at Great Tower from Uxbridge, Hornchurch and Southport.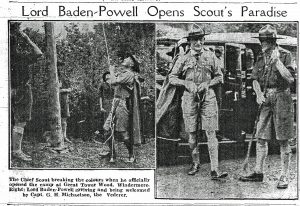 LORD BADEN-POWELL'S ADDRESS
A memorable scene was witnessed at the official opening, which took place in a clearing in the plantation where a tall flagstaff had been erected, and when the Chief Scout pulled the halyard which released the Union Jack to mark the official opening, the cheers rang out anew.
In the course of his address, Lord Baden-Powell said "In breaking this flag I am delighted to feel we are opening this wonderful land which has been given to us by Mr. Wakefield for the use of the Scouts in the coming years. Many years ago I learned a bit of geography when I was abroad in a country where they wanted to make an attack on us in England, and they had come to the conclusion that London was not the capital of England. There are only seven millions of people there, but the capital of England was in those Midland centres where all those vast industrial cities are, with their seventeen millions of people. When one comes to reflect on that one sees what immense value this camping ground is going to be to the millions of boys – not just in this part of the country, but also the boys who can come easily from Scotland. It is going to be a tremendous centre of training for Scouts, and no place suits our special form of training better than this, for here they will learn to develop their bodies, minds, and souls. In camp, living in the open, doing their work of wood craft and carrying out Scout games and activities they learn that strength of body which is so much needed in our race today.
CHARACTER BUILDING.
They can learn in camp all those kinds of woodcraft that runs with character, and the Scoutmasters have the real opportunity of living with the boys in camp, finding out their characters, and directing those characters aright. The boys living there begin to realise something of the beauties and wonders of the world made by their creator and get in closer touch with God."
"My dear Wakefield," continued the Chief Scout, "In the name of the movement as it stands, I offer you our most grateful thanks for this generous gift, and I would also thank you not only in the name of the movement to-day, but of the thousands of the boys of the future generation who will come here and enjoy the amenities of this wonderful gift. It is useless for me to try to thank you in a few hollow words, but you have the satisfaction of feeling yourself that inasmuch as you a have done this good thing for these young people you have done it for the Lord, and I thank you." (Applause.)
The donor, Mr. Wakefield jokingly apologised for bringing all those people to Great Tower Plantation, but he said the real thought lay with Sir Percy Everett for the whole thing; that of a National camping ground for wood training for Scouts; and he (the speaker) had slept on it and thought of it until he could not get over it. He was, however, going to forget the "grey hairs," it was the boys he wanted to have a word with.
It was their place—they older people might be looking after it for them on the right lines, but after all it was their place. What were they going to make it? He hoped they made a jolly good thing of it. It seemed to him there were three great agencies in building up the mind, and he thanked God for the mountains, for the wood, and the sea. There they could learn what a true mind was, and he wanted them to learn there in that place.
THE GREAT ENTITY.
He urged the Scouts to remember the great organisatlon they belonged to, that great living entity of the Scout. He hoped the boys would invite him in a few years' time to come again and visit them to see how they were getting on, the improvement they had made, and how they were developing that place. He expressed the hope it would be a little bit of Mecca for the boys of England to come to and learn how to do their job.
On the call of the Chief Scout, three rousing cheers were given for Mr. Wakefield, and Lord Baden-Powell was also heartily cheered on the call of Captain Michaelson.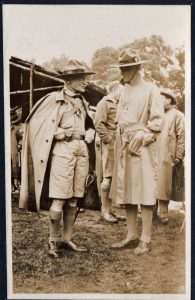 After inspecting the woodland, the entourage then journeyed by car to Blakeholm. Another enthusiastic welcome awaited the Chief Scout on reaching the Lakeside camp where lunch was taken.
The police arrangements for controlling the traffic, despite the tortuous mountain roads, were smoothly carried out under the supervision of Supt. Parker.
Barrow News, 22nd August 1936
* Dr. A. W. Wakefield was a younger brother of W. B. Wakefield.
Captain Arthur William Wakefield
MD BCh MRCS MRCP (1876 – 1949)
Dr. Arthur Wakefield was the brother of Captain Edward Wakefield who commissioned Waterbird (see below **).
Wakefield served as a surgeon throughout World War One. He was medical officer on the 1922 Mount Everest expedition. At the first Winter Olympics in 1924 the Everest team were each awarded a gold medal, with the citation 'the greatest feat of alpinism in the preceding four years'. In 2012, Wakefield's medal was taken to the summit of Everest by Kenton Cool.
Wakefield was President of the Fell & Rock Climbing Club when on 8 June 1924 at Great Gable the dedication took place of a bronze plaque inscribed with the names of the 20 members killed in World War One, on the very day that George Mallory and Sandy Irvine disappeared on Everest. – Into the Silence: The Great War, Mallory and the Conquest of Everest by Wade Davis. Wakefield's obituary described him as one of the Club's most oustanding, best loved and greatly distinguished members.
Amongst the names is that of 'S. W. Herford'. Siegfried Herford carried out aeronautical research at the Royal Aircraft Factory, Farnborough in 1913-1914.
W. G. Collingwood designed the plaque, who was the father-in-law of Oscar Gnosspelius a pioneer engineer, designer and aviator at Windermere 1909-1914.
In 2013, the plaque was replaced with a new one.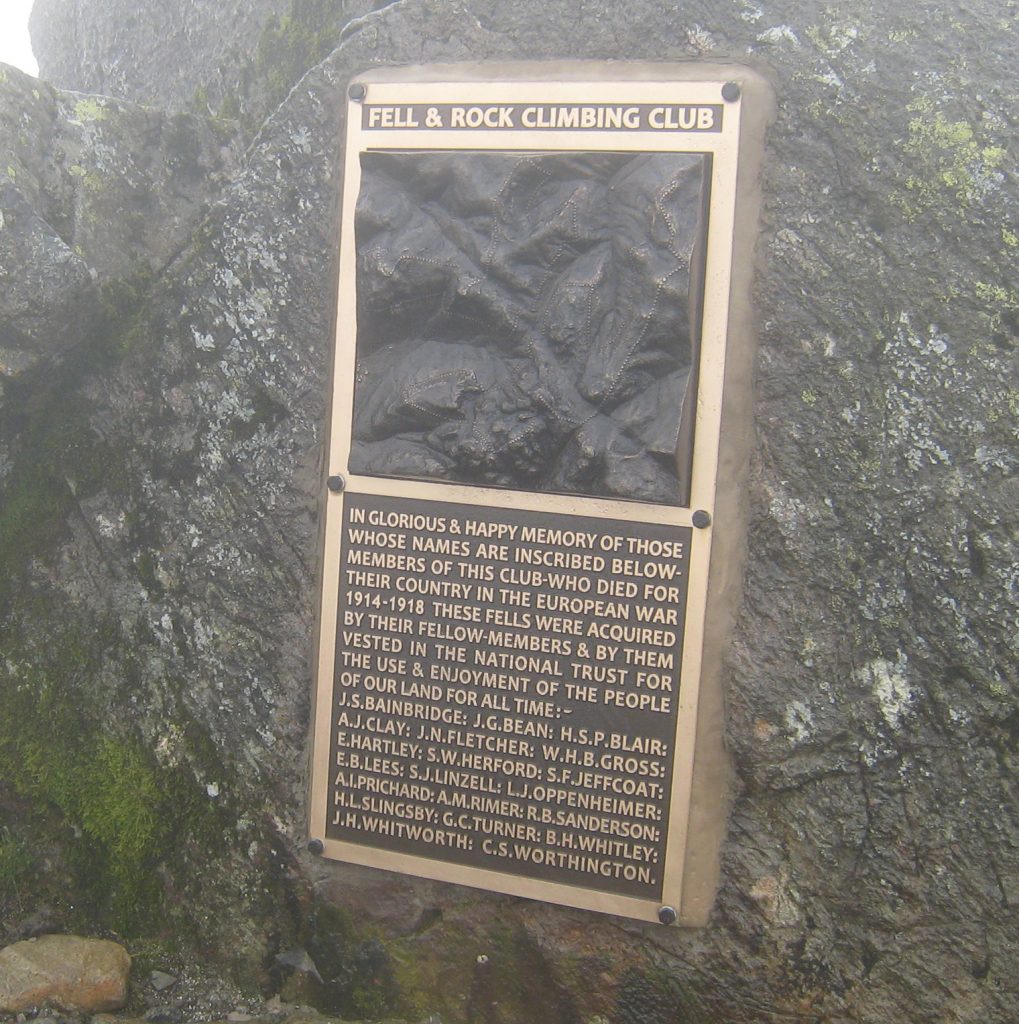 ** Captain Edward William Wakefield MA (1862 – 1941)
Captain Edward Wakefield was one of Britain's most important aviation pioneers. It was his aeroplane, Waterbird, which on 25 November 1911 made the first successful flight from water in the UK at Windermere.
Born into a prosperous Lakeland family, Edward Wakefield trained as a banker and barrister (1893). But from an early age his restless disposition, combined with a strong sense of religious duty and Victorian patriotism, drove him to wider pastures. He was active in charity work, mainly with children in need, in London in the 1890s and again in the early 1900s. On the outbreak of the Boer War in 1899, he joined the Carlisle-based Border Regiment and saw two years active service in South Africa.
Attending a flying meeting at Blackpool in 1909, he was told that casualties were inevitable when flying from land. He decided that flying from water would be much safer. Helped by considerable wealth and self-confidence, he set out to prove it. He built hangars at Windermere. He bought and tested one of the earliest Avro aeroplanes, which he named 'Waterbird', for experimentation and adaption and patented his float and method of attachment. National publicity followed. On 1 January 1912, he formed the Lakes Flying Company. A strong protest campaign led by Beatrix Potter and Canon Rawnsley was foiled with Winston Churchill's help. Soon his Hill of Oaks base became a centre for Admiralty testing and, by WW1, for the large-scale training of naval pilots whose graduates fought, and all too often died, on the Western and Mediterranean Fronts.
In 1914, despite advancing age (he was then 52) Wakefield re-joined the army, spent three years training troops, commanded a Labour Battalion on the Western Front, served in Italy and ended the War as Chief Church Army Commissioner for France and Belgium. His health badly damaged, he spent the rest of his life in Kendal, active as Mayor, Chair of Magistrates, local landowner and supporter of good causes. He died in 1941. His wife Mary pre-deceased him in 1921. He had one child, Marion, who many years later fondly reminisced of helping sew fabric for Waterbird's wings and foiling pre-WW1 German spies. His grandson, James Gordon (1913-1998), was also a distinguished figure in aviation history – pioneering air-sea rescue dinghies and revolutionary wood epoxy construction techniques for Mosquito aircraft and Horsa gliders in WW2.
Above two articles from https://www.waterbird.org.uk/
Obituaries.
The Times (London, England), Wednesday, Dec 10, 1941; pg. 7;
MR. W. B. WAKEFIELD
Sir Henry McMahon writes:-
May I express on behalf of the National Council of Y.M.C.A.s, the loss felt to the cause of youth in the recent death of William Birkbeck Wakefield. A companion of Grenfell in the early, rigorous days in Labrador, W. B. Wakefield afterwards became one of the first chief inspectors of scouting appointed for this country by the late Lord Baden-Powell. As Lord Baden-Powell's representative, "W. B." later visited Canada to introduce scouting there. He crossed the border to launch the movement in the United States, meeting in Washington those interested in legalizing the position of the Boy Scouts.
His generous gift of the Great Tower Wood estate in the Lake District, a camper's paradise, will perpetuate his name in the scouting movement. For many years "W. B." acted as national honorary secretary for the boys' work of the Y.M.C.A., having been keenly interested from early manhood in every activity of the association. It was due mainly to his efforts that the Y.M.C.A. now has one of the most beautiful of camping sites adjoining Lake Windermere. In his passing the Y.M.C.A. has lost an active member of its War Emergency Committee. The loss of his valuable assistance and sage counsel will be keenly felt.
© Times Newspapers Limited