THE LANCASTER GUARDIAN AND OBSERVER, FRIDAY, MAY 2, 1958
The 31st Lancaster (St. Luke's) Pack, last season's defeated finalists, came back to win the Palmer Cup at Acrelands* on Saturday by 8-0. Crookhey Hall Pack from Cockerham were plucky and gave a sporting display throughout. But they never recovered from the loss of a goal five minutes from the start, and within 20 minutes the 31st Lancaster had added five more. The scorers were Fagan (5), Dawes, Bisset and Coote (own goal). The refereee was Mr. D. McCulley of Morecambe.
PERSONAL TRIUMPH
Presenting the trophy, Mr. R. Weir said the teams had put up a wonderful show. The Lancaster team had won easily and the game had been a personal triumph for D. Fagan. He congratulated the winners, and also the losers, all of whom had pulled their weight and never given in. But whatever the result, it was the spirit in which the game was played that mattered most, and they had all done their best, said Mr. Weir.
Through the co-operation of the Red Rose Boys' Club the teams were entertained to tea at St. George's Quay. Medals were presented to the teams and reserves by Mr. H. Todd, District Commissioner. Players who took part in the recent inter-association cup-tie with Morecambe received medals from Mr. T. Irving, and Cubmaster Mrs. E. Crompton handed the League competition shields to representatives of the 31st and 12th Lancaster Packs. After the presentations a social evening of games and choruses provided a fitting finale.
TEAMS
Teams were:-
31st Lancaster: N. Smith, C. Michell, P. Overend, R. Winn, A. Driver, R. Dawes, G. Bisset, (capt), D. Wright, D. Fagan, B. Perkin, K. Raffaelli; reserve, D. Jackson.
Crookhey Hall, Cockerham: W. Conlan, E. Coote, P. Cross, A. Johnson, R. Santo, N. Mercer, J. Hyland, J. Garland, F. Gallagher (capt), D. Donoghue, E. Gorst. Reserve: J. Sales.
Inter-Association medallists: W. Conlan, J. Reid, D. Spencer, M. Richmond, K. and D. Raffaelli, C. Michell, R. Hill (capt), I. Carty, S. Fawcett, M. Clarke, D. Physick.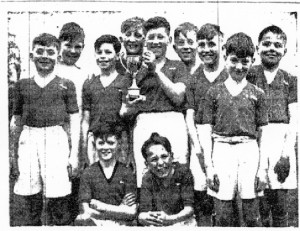 * Acrelands was on the North side of Lune Street, the present site of sporting facilities of Our Lady's Catholic College.