Morecambe Visitor and Heysham Chronicle dated 19th May 1909
APPOINTED VICAR.
From Sandylands to Altham.
REV H. H. WHITTAKER TO SAY GOOD-BYE.
The living of Altham, which has been vacated by the Rev. J. Robinson, has been offered to the Rev. H.H. Whittaker, curate-in-charge of St. John's Church, Sandylands in the parish of Heysham, and accepted by him.
"The Rev. Harold Hindle Whittaker M.A.," says the Accrington Division Gazette, "graduated at Durham University and was ordained to Sacriston a large colliery parish in County Durham. Then he proceeded to the curacy of Upper Armley, a suburban parish of Leeds, where he shared in the church life of the city and helped to sustain the many activities of a well-organised parish. He was particularly successful in his work among men, preparing some for the Bishop of Ripon's Lay Readers' examination, and winning many others to useful work in connection with the church.
For the last two years the new Vicar of Altham has been at Sandylands, and it is no exaggeration to say that during this period the district has been greatly stimulated by his energy and zeal. His ministry has been marked by a great increase in the number of communicants and of the congregation generally, and with the able assistance of Mrs Whittaker, who is keenly interested in church work, the attendance at the Sunday school has been nearly doubled. Mr Whittaker has set on foot, and successfully carried on, various organisations connected with the church of St. John's Sandylands, including boy scouts, boys' gymnasium, etc., whilst Mrs Whittaker has initiated such useful institutions as mothers' meetings, working parties, etc..
Since Mr Whittaker undertook the charge of the parish a parochial hall has been built, furnished, and wholly paid for, and he will certainly be much missed by his parishioners – particularly by the sick and poor, to whom he had endeared himself.
It is probable the rev. gentleman will take up his duties at Altham about the beginning of August.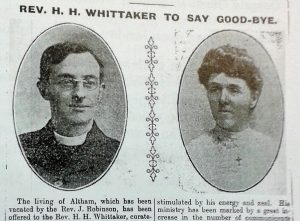 Morecambe Guardian 22 January 1938:-
DUE TO ILL-HEALTH.
The Rev. Harold Hindle Whittaker, M.A., for 28 ½ years Vicar of Altham, has tendered his resignation because of ill-health.
Mr. Whittaker is 68. He was ordained in Durham Cathedral in 1903, after graduating at Durham University, and became curate of Sacristan (Co. Durham). Later he became curate at Christ Church, Armley, Leeds, and curate-in-charge of St. John's Sandylands, Morecambe. In September 1909 he succeeded the Rev. J. Robinson as Vicar of Altham.
In 1939 Rev. Whittaker and his wife had returned to the local area and were living at Laneside, Middleton Road, Middleton.
Rev. Whittaker died in 1965 in Lytham St Annes aged 95. His wife Alice Jane died in 1962 aged 93 also in LSA.