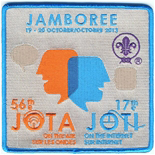 17th Annual Jamboree On The Internet (JOTI) Comes To Lancaster University
Judith Hunter, Assistant Cub Scout Leader at 16th Lancaster Maclean Pack and IT Engineer at Lancaster University, fondly remembers taking part in JOTA (Jamboree On The Air) when she was a Guide and wanted other young people to be able to have a similar experience so has worked with her employer to give them the chance to take part in JOTI (Jamboree On The Internet).
After successfully negotiating the use of a computer lab at the University for 1 day for her own group in 2012, this year Judith has persuaded Lancaster University to let her have the lab for the whole weekend and to open the event up to members of the Scout and Guide movements throughout Lancaster, Morecambe and Garstang.
Other IT staff from the university who are also involved in Scouting and members of the Student Scout And Guide Organisation (SSAGO) on campus will be helping over the weekend or will have helped to set up the experience beforehand.
In just one day in 2012, 16th Lancaster managed to communicate with young people from 39 countries and 1 Cub even managed to arrange a badge swap with a youngster in Cyprus! 2013 promises even more opportunities to make friends across the globe.
You can join in JOTI 2013 at Hannaford Lab, Lancaster University on the 19th and 20th of October from 9.00am. There's no need to book, just turn up ready to chat.
Sarah Cruickshank
Assistant District Commissioner, Marketing & Communications