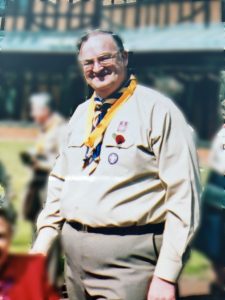 It is with great sadness that I have to report that Peter Hunt has passed away after a long illness.
Peter joined the Scout Movement in 1947 as a Cub at the 5th Lancaster Cathedral Group. He then went on to the 13th Lancaster. He was a Cub leader for a period of time and then in 1979 became Group Scout Leader. During his period as GSL he amalgamated the 14th Lancaster, set up Castleton Ventures with the help of his long-term friend Bill Greene, and was instrumental in fundraising, planning and constructing the current 13th Lancaster HQ. He was also involved in supporting many District activities and was awarded the Silver Acorn in 2002 for his contribution to Scouting.
Peter also assisted the late Peter Gedge in producing the publication "Scouting in Lonsdale 1908-1999" collated and written to celebrate the Silver Jubilee of Lonsdale.
Peter remained active as assistant GSL with the group until he fell ill in 2006.
Peter's funeral will take place on 3rd July at 11 am at Scotforth Cemetery Chapel with a celebration of his life afterwards at the Fox and Goose pub, Newlands Road.
Those attending are invited to wear Scout uniform should they so wish.
It would be helpful, for catering purposes, if anyone intending to attend the gathering could let his daughter know as soon as possible.
Email: chris.zammit@btinternet.com


District Commissioner