Tyne Cot War Memorial
Private 263108, died 22/08/1917 age 19 Border Regiment Commemorated in United Kingdom Panel 85 to 86. TYNE COT MEMORIAL
Son of Richard Remington and Fanny Crayston nee Nelson, of 9, Cromwell Rd., Lancaster. Enlisted 1915, in King's Own Royal Lancaster Regt. Reginald was born in Kirkby Lonsdale in 1897.
In 1911 the family was living at 61 Willow Lane, Lancaster.
According to the Scout Association WW1 Roll of Honour Reginald was formerly a Scout with the Parish Church Troop (7th Lancaster).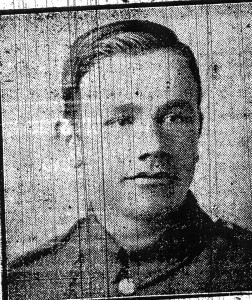 Lancaster Guardian, September 8, 1917
Pte. R. Crayston (Killed)
Another former boy scout at Lancaster has laid down his life in the service of his King and country. Mr. and Mrs. Richard Crayston, of 79, Sibsey-street, Lancaster, have been notified of the death in action on August 22nd, of their second son, Pte. Reginald Crayston (20), of the Border Regiment. Prior to enlisting he was warehouse clerk at the St. George's Works. He was formerly an active member of the Lancaster Parish Church Troop of Boy Scouts, a choir boy at St. George's Mission Church on the Marsh, and was engaged for some time at the bookstall at the Castle Station. His father is Vicar's warden at St. George's Mission Church.
Deceased enlisted in the King's Own Regiment, from which he was transferred into the Border Regiment, and he had been in France since February last. The elder brother of the deceased, Lance-Corpl. Arthur Crayston, serving with the 12th Lancers, was killed in action in Oct., 1914.
The Crayston family belong Heversham.
The following letter from Pte. T. Head, written on behalf of the boys of the 15th Platoon, explains how the deceased met his death:-
"It is with deepest regret that I have to inform you of the death of your son, Reggie, who fell on the morning of August 22nd, during an attack an the German trenches. He was shot by a sniper and died instantly. We all sympathise with you in the loss of your dear son, for we ourselves greatly feel the loss of such a splendid comrade who, during the eight months that he has been with us, has done his duty as a soldier and proved himself a great favourite among the officers and men of the company. We did our last duty towards him and laid him to rest in peace. May God help you to bear the loss of one who died a gallant death while bravely fighting for his King and country."