Morecambe Guardian 02 December 1952:-
SCOUTMASTER KNITS SOCKS TO HELP BOYS
Bought old machine for £5, has already raised £10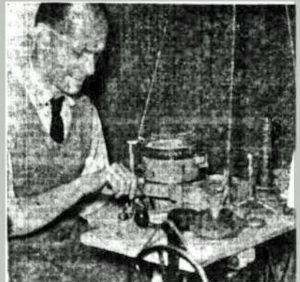 WHEN Sea Scoutmaster Mr. G. W. Beckett (sic) of the 4th Morecambe and Heysham Sea Scouts was offered a hand-worked stocking knitting machine for £5 by a workmate nine months ago he thought "what the dickens can I do with a stocking knitting machine?"
Mr. Beckett, who lives at 44 Bare Lane, and works in the laboratory at the I.C.I., Middleton, mentioned the matter to his wife that same evening.
??? (indecipherable) suddenly an idea struck him: stockings cost money : his Sea scouts needed money why not buy the machine, sell the stockings, and give the proceeds to the Sea scouts ?
WOULD NOT WORK
So he bought the machine, an old fashioned model, and found it rather dirty. Partly for his love of all kinds of machinery, he decided to strip it down and give it a good clean.
When he re-assembled it he could not get it to go. The timing of the machine was wrong. For a month he struggled with it but it would not work.
Finally he took it to a firm at Preston and they put it right. The firm told him that as far as spare parts were concerned his machine was obsolete. The only things he can get for it are needles.
After painting his machine green, Mr. Beckett set to work knitting socks. Although he carefully followed the instructions of a guide book provided with the machine, it took him about a week to get into the way of knitting.
At first he had his doubts about selling the socks he knitted. He need not have feared. He sold a pair to a friend, who passed the word round. Soon orders were pouring in.
SOLD 28 PAIRS AT FAIR
Then came the Sea Scouts' Christmas Fair. Mr. Beckett knitted 30 pairs of socks for the sale. All but two pairs were sold.

There is little spare time for Mr. Beckett now. He is knitting every evening. When a "Guardian" reporter saw him on Sunday afternoon he was just rigging his machine up ready for another knitting session.
It is hard to believe that Mr. Beckett's socks are not made by the latest type machinery. Ranging from plain to fancy colourful designs the socks match any that can be found in high class men's outfitters shops.
So far Mr. Beckett has raised over £10 for the Scouts and is still snowed under with orders.
John William Beckett was born 15 Dec 1906 in Middlesbrough.
In 1911 the family is living at 3 Hovingham St., North Ormesby, Middlesbrough, and in 1939 at 20 Norcliffe Street, Middlesbrough:- "John W Beckett born 15 Dec 1906 Analytical Laboratory Assistant, ARP Gas Detector ICI Ltd Billingham, wife Jennie Beckett born 15 Nov 1908; also living there is Jennie's father Charles Stinton born 18 Jan 1876 Iron Foundry Labourer Widowed."
John and Jennie were married in 1934 in Middlesbrough.
John W Beckett died in 1968 in the local area.