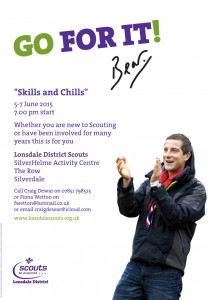 To: All Adult Members in Lonsdale District Scouts
01 May 2015
Dear All,
Re: 'Skills and Chills', Silverhelme Scout Activity Centre 5-7th June
I am writing to invite you to an all-adult event: skills and chills, focussed on sharing the best practice from the across the District, sharing programme ideas and giving leaders a taste of a wide range of activities. The theme of the weekend will be 'Outdoor and Adventure, with opportunities to try out a range of activities and develop new skills. The weekend will also provide us all with a fantastic opportunity to get to know each other and socialise- and we have some things planned to help that too…
Whether you are new to Scouting or have been involved for many, many years there will be something for you. It doesn't matter if you are a leader, section assistant, occasional helper or committee member- everyone is welcome. Whether you are looking for an action packed weekend or just want to relax with friends and meet new people- you can tailor the weekend to suit you, attending the activities that you want to.
The Details:
Silverhelme Scout Activity Centre
5-7th June 2015
Saturday Activities will Include: (Participants will be able to pick two sessions)
Offsite Caving (1/2 day), Offsite hillwalking (1/2 day), Offsite orienteering (1/2 day), Offsite climbing (1/2 day), offsite kayaking (1/2 day), Onsite Bushcraft course (1/2 day), onsite fires and food (1/2 day) running greenfield nights away (1/2 day)
Sunday Workshops will include:
Going Global, Safety Training, Supporting Young Leaders, Delivering non-permitted adventurous activities, applying for activity permits. Applying for nights away permits.
The Cost:
There are a number of options for accommodation and catering so there are different tariffs:
Indoor Accommodation in Mortimer Lodge including catering (allocated on a first come-first served basis): £32
Camping self catering (Saturday dinner is provided) £18
Day Visitor Rate (Saturday only- dinner is provided) £10
Payment must be received in advance of the event to secure your place.
With Best Wishes,
Fiona Wetton
Deputy District Commissioner