Congratulations to Lonsdale Explorers on achieving 2nd place in this year's event.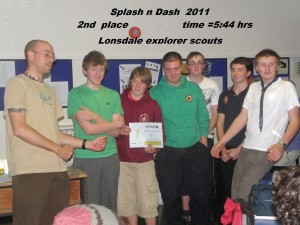 The Splash and Dash Adventure Challenge, for teams of West Lancashire Explorer Scouts and Scout Network, is an exciting competition for West Lancs, bringing the sport of Adventure Racing to us. The competition requires a team of 7 people (one team per Explorer District / Local Area Network), to complete a sequence of activities around the Lake District.
The event is a relay race, passing baton from couple to couple. Teams are set off at timed intervals, and the event is staffed by appropriately qualified people throughout.
Activities included 2 people orienteering, 2 people paddling a Canadian canoe, 2 people mountain biking, 1 person sea kayaking and at least 4 of the team going up, and descending a mountain.
Congratulations also go to two leaders from Lonsdale, Harry Stephenson and Tom Law, who won the pairs event.