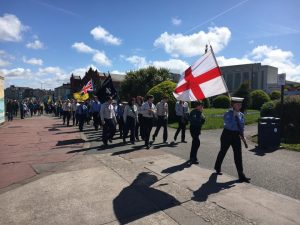 I am pleased to announce the arrangements for St. George's Day this year. I hope you can attend and support the event as this is a huge opportunity to bring the whole District together in celebration and provides us with an excellent public relations opportunity.
The Core Details:
Date: Sunday 22nd April 2018
Time: 12:30 pm meet for 12:45 pm start
St. George's Day Scouts' Own:
Assemble at Lancaster Castle at 12:30 pm to start the parade at 12:45 pm.
From here we will walk through town towards Dalton Square via a designated Police planned route.
(see map below for route details)
Fun Day Celebration:
After the Scouts' Own we will be holding section specific fun activities (Scavenger Hunts/ Treasure Hunts/Photo Trails) These will be supplied by the ADCs, but led by Group Section Leaders. The aim is to show Scouting in the community and make us visual. Groups will end the day in Market Square.
Key Points:
• All Groups are asked to attend. Group Scout Leaders please confirm your attendance by 15/04/2018 This is a great recruiting opportunity. Please invite and encourage all members of your Group including Group Executive, supporters, parents and families to attend and support the event.
• A drum band called Batala, will be leading the Parade. This will ensure maximum impact and make sure we are noticed. We are encouraging a celebration atmosphere.
• They will move from Dalton Square to the Platform in Market Square and do 2 x 20 mins sets.
• Beavers and Cubs may wish to make their own St. George's flags to bring along and wave.
• District Team members will be in Market Square with marketing banners, speaking to the public and handing out 'want to join' contact details.
• All Scouting members should attend in full and smart uniform. Leaders this is our opportunity to lead by example and all award holders are encouraged to bring and wear your awards with pride.
• Groups are responsible for any first aid and the safety of their attendees and should come prepared.
• The Scouts' Own will be predominantly led by young people and will be suitable for all faiths and those without faith.
Annually this event gives us an excellent opportunity to demonstrate the very best of Lonsdale District Scouts, to do this however, it is fundamental that as many Groups are represented as possible. Can I please remind you that if your Group cannot attend please let me know as soon as possible.
As ever, thanks for your help and support and I look forward to seeing you on the day.
Mandy Sweet
Deputy District Commissioner – Programme
07950781983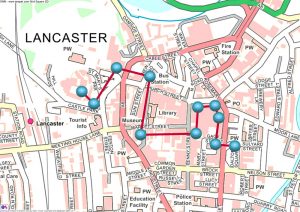 Click to view larger map