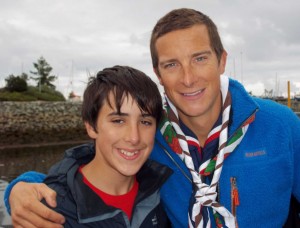 Last July saw Chief Scout Bear Grylls take 8 lucky Scouts on the adventure of a lifetime to his island off the coast of Wales.
One of the Scouts selected for 24 hours of survival skills, adventure and new friendship (pictured above) was from the 16th Morecambe. Bear said that he had been looking forward to the event all year and he couldn't wait to meet the lucky eight.
Bear had also sent his congratulations to the 8 Scouts on gaining their Chief Scout's Gold Award in fine style.
Find out how he got on here (YouTube video).