Lancaster Guardian, July 1979

THE 53rd Lancaster Cub Scout Pack will soon be moving house. For work has recently been completed on their brand new £19,000 Scout HQ in Greaves Park.
To commemorate the occasion the Mayor of Lancaster, Councillor Mrs Ivy Welldrake unveiled a plaque at the new premises on Sunday.
The building incorporates a lockable storeroom, a kitchen and a garage for storing canoes as well as a separate room for the Venture Scouts and an office. The main hall in the new building is bigger than the whole of the old hut on Bowerham Road opposite Dale Street.
Scout leader Mr P. Johnson said of the new building, "It Is ideal and has been purpose built for the Pack by Jim Johnstone, the Cub leader who has a building firm."
PARENTS
Most of the smaller jobs on the building, such as cleaning up the site and painting were done by parents, and Cubs and Scouts.
The new headquarters was built in about three to four months after the money had been raised, £6,000 of the cost was met by the Pack itself by means of dances, coffee mornings, bring and buy sales and sponsored walks and the rest came in the form of grants from the education authority and from the Scout Association
Future plans for the new premises include a scheme to run dances and youth events on a club basis with club cards being issued to members.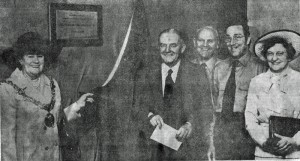 Meanwhile the 5th Lancaster pack will move into the old hut from their present home at the Cathedral.
THREE members of the 53rd Lancaster Scouts received the highest award possible for Scouts on Sunday.
At the opening ceremony of the 53rd new building in Greaves Park, the Mayor of Lancaster, Councillor Mrs Ivy Welldrake, presented the boys, Stephen Riley, 15 and brothers Michael and Chris Simpson with their Chief Scout Awards.
To qualify for the awards the Scouts had to pass three sections under the headings, Responsibility – which included social service work; Leadership—including taking younger boys on camps; and Adventure— which involved physical and endurance tests. The boys also had to pass a certain number of proficiency badges.