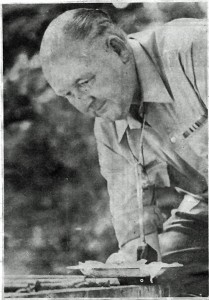 ONE of the area's leading figures in the Scout movement is to receive a Silver Acorn in official recognition of outstanding and long service.
He is Mr Eric Wall of Lancaster, who has been working with local Cub Scouts for 21 years.
He changes uniforms when at work in the city, as he is a familiar figure to many motorists as a traffic warden.
He took over the Carnforth Cub pack in 1956 and became Assistant District Commissioner for Cub Scouts in 1964. He has seen his section grow steadily over the years, now with over 800 boys. Mr Wall is also a County Assistant Leader-Trainer.
In 1970, he was awarded the Medal of Merit and qualified for long service decorations. He takes a keen interest in music and drama, and has produced several gang shows since 1960.
He will receive his latest award at the Lonsdale district annual meeting in June, and together with his family he has been invited to attend the St George's Day parade at Windsor, in the presence of the Queen.
All his family are active in the Scout movement. His wife Joan, formerly matron of Pointfield, is on Lonsdale Executive Committee. One son, Keith, belongs to the Scout Fellowship and the other, John, helps his wife in Cub Scouting in Chorley.
Morecambe Visitor, 1978