Morecambe Guardian 03 November 1953: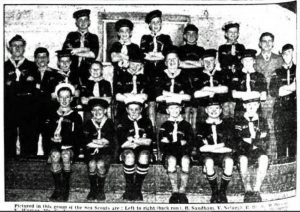 Pictured in this group of the Sea Scouts are: Left to right (back row), B. Sandham, V. Nelaugh, R. Brady, M. Breslin, V. Warner, Mr. G. Tirant : (centre row), Mr. J. Pye, B. Breslin, T. Fellowes, J. Curwen, B. ???, ?. McQueen, P. Silver, P. Hathaway, Mr. J. Walsh : (front row), D. Pickering, G. Gornall, M. Cruickshank, ? Simpson, M. Holohan and B. Walsh.
They learn about the sea in a former stable
In the delightful, sylvan setting of the grounds of Greenfield house, tucked away behind bushes, shrubs and trees, and almost in the shadow of St. Peter's Cathedral, Lancaster, are some old stables and a paddock. But horses no longer clatter down the cobbled yard nor does hay and straw fill the loft. For today, they are the headquarters of the 5th Lancaster (Cathedral) Sea Scouts 82nd Admiralty Unit.
Since they moved into their new "home" in 1951, the sombre grey, walls have been transformed by bright paint, and large and airy rooms have been constructed.
Brass anchors etc., on the wall, gleam brightly with constant cleaning. In fact it is a picture to delight the eyes of a housewife.
Recently I had the pleasure of visiting the headquarters and was shown by assistant scoutmasters and officers the various activities and plans for the future.
The boys work in complete harmony with each other. They really enjoyed themselves.
Half the group are Church-of-England, and the other half Roman Catholics. "It is not their religion that counts it is the manner in which they do the job" said an assistant scoutmaster.
The group was originally formed as Boy Scouts just before the first world war. Unfortunately they disbanded in the early 1920's and the group ceased to exist until 1943 when it was re-formed as the Sea Scouts.
Their first meeting was held on the 19th of July, 1943 in St. Peter's School, at which they were only six people present. Several of them are still in the troupe to-day. One of them is Mr. J. Pye, who was 17 years of age at that time.
He is now an assistant-scoutmaster and is married with one baby girl. The present membership is 40 boys. A cub pack, which is connected with the troop has a membership of more than 40.
Because the school needed the club-room as an extra class-room, the troop had to leave in 1951 but shortly afterwards moved to their present headquarters.
Wielded spade
I was told: – "When we first came here the condition of the stables and rooms was disgusting. Soil and grass had grown up to the window of the first floor. There was only one thing we could do. So armed with spades and shovels the boys dug away the debris. Although the state of the rooms is not as we would like it at the present, we have great plans for the future."
The group had, and continues to have, many friends who all lend a hand. One of them, Mr. T. Mountain died two years ago, after doing active and yeoman service. Mr. G. Lambert, aged 61 years, who first joined the troop in 1944, was 'bosun until he retired three years ago. He still serves on the parents' committee.
Seamanship Instructor is Mr. G. Tirent, of Seychelles, who joined them in March of this year. He is busily engaged every Wednesday in this miniature "naval centre," with four patrols, Curlews, Seagull, Kestrel (for seniors only) and Beaver. They receive instruction in first aid, seamanship, physical training, games, and there is even a weight lifting glass.
Squadron drill, on a fine night is an interesting site, with the boys workmanlike in their smart navy-blue uniforms. Apart from these activities the boys give public service on show fields, at fairs, and during processions through the City streets. They were particularly spick-and-span at this year's Lancaster show.
Storm thrill
One exciting night still talked of was when their 25 ton motor cruiser "Reward," was wrecked on the River Lune one stormy night in September of 1950. The skipper, Mr. B. J. Toole, was in charge of the cruiser at the time and there were more than 12 boys on board. The storm was so bad that large waves lashed the cruiser. Rather than risk injury to the boys by continuing the voyage Mr. Toole beached the cruiser.
The cruiser was smashed but portions were salvaged. The mast, guard railing, binnacle, and wheel are now part of the "quarterdeck" at HQ.
The "Reward" was an ex fishing boat capable of doing up to 10 knots. She has been replaced by a 27 ft. whaler which the troop plan to have on the River soon. They used to have a boathouse on the Dry Dock in which six canoes were housed. The boathouse was in existence from 1944-47. In the cobbled yard of their headquarters today are several boats.
Pride of the headquarters is a large brass bell with the word "Indradeo**" inscribed. The finder of the bell, Mr. Pye, has no idea which ship it came off, but found it in the Normandy invasion in 1944. "At that time he said it was in a filthy condition and green with age. I cleaned it up and for more than 12 months carried it around in my kit bag through France, Holland and other countries." Mr. Pye served in the signals in the Navy during the war.
Another prize is an old "ditty cloth." With a brilliant purple border, it has signals, sea calls, proper dress, etc.., printed on it in bold type. It was presented to the troop many years ago by an old seaman.
The boys have a registered camping site at Hornby and spend many happy week-ends there. Members have paid camping visits to Switzerland and a highlight in 1950 was the Holy pilgrimage to Rome.
Backing their efforts is a Parents Committee formed in 1944, with a membership of fifteen. By organising whist drives etc., they aid the funds.
– B.E.S.
** Indradeo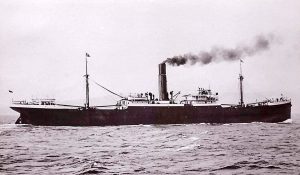 Name INDRADEO Official number 128023 Flag IMO GBR
Year built 1910 Date launched 12/01/1910 Date completed 03/1910
Vessel type Cargo General Vessel description Steel Screw Steamer
Builder Yard Charles Connell & Company, Glasgow Yard no 331
Subsequent owner and registration history
30/08/1915 Ocean Steamship Company Ltd.,Liverpool and later renamed EURYBATES.
12/1926 R. & J. Thomas & Company Ltd., Holyhead, and renamed CAMBRIAN PEERESS.
1928 William Thomas Shipping Company Ltd., (R. & J. Thomas & Company Ltd., managers), Liverpool.
06/1931 Petrograd Steamers Ltd., (W. Thomson & Company, managers), Leith, and renamed BENDORAN.
1941 Ben Line Steamers Ltd., (same managers), Leith.
28/03/1944 Ministry of War Transport.
Vessel history
09/06/1944 Sunk as a blockship to form part of the Mulberry Harbour (Gooseberry No.4) at Arromanches, Normandy.
End year 1944 Fate / Status Scuttled 09/06/1944
Disposal Detail
09/06/1944 Scuttled as a blockship to form part of Mulberry Harbour (Gooseberry No 4) at Arromanches, Normandy.
08/1946 Refloated.
19/05/1947 Arrived in tow at Blyth for demolition by Hughes Bolckow Shipbreaking Co Ltd.