Lancaster Guardian 22 July 1955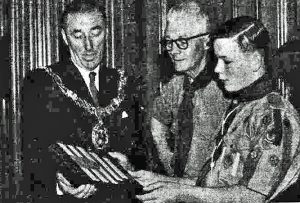 A coloured plaque representing the life of Lancaster, was handed by the Mayor, Coun. T. W. Hully, last Friday to Scout Rodney Johnson, who is going to the world jamboree at Niagra, Canada, next month. Commissioned by Messrs. Storey Bros. and Co. Ltd. on behalf of the Lancaster Chamber of Commerce the plaque has been engraved by Mr. F. Hayton and coloured by Mr. H. I. Cliff, Mr. P. Marriner and other members of the staff of Lancaster and Morecambe School of Arts and Crafts. It will be displayed at the jamboree. In centre is Mr. H. Todd, District Scout Commissioner.
Lancaster Guardian 16 September 1955
Patrol's end
RODNEY JOHNSON, of Ulster Road, Lancaster, patrol leader in the 4th Lancaster (Sulyard Street) Scout Troop who represented Lancaster Scouts at the recent 8th World Jamboree at Niagara in Canada, returned home last week.
In all he spent three weeks and two days in Canada. He travelled out by air from Manchester to Toronto and the plane made a detour by Iceland because of a hurricane in the Atlantic.
Having stayed a night in Toronto, he and other British scouts crossed Lake Ontario to the jamboree camp at Niagara. There he was a member of a troop formed of scouts from Lancashire, Staffordshire, and Durham.
The jamboree lasted a fortnight during which the British scouts met their fellows from many other countries. All the scout troops gave displays, that by Rodney's troop being of games as played by British Scouts.
After the jamboree the visitors were entertained for a week by Canadian families. Rodney stayed at Port Credit, a Toronto suburb, at the home of Mr. and Mrs. C. Bolton, the parents of a Canadian Scout.
At Toronto, Rodney visited the Canadian National Exhibition and also several factories. When the week was over he returned to Britain by air, the plane this time flying direct from Newfoundland to Belfast.
Toronto greeting
WHEN he went to Canada Rodney took with him a letter of greeting from the Mayor of Lancaster (Coun. T. W. Hully) to the Mayor of Toronto.
On Monday the Mayor received this reply from the Mayor's office at Toronto:
"Dear Mr. Mayor — In the absence of His Worship Mayor Nathan Phillips from the city I wish to acknowledge with thanks your kind letter of greetings presented at this office by Mr. Rodney Johnson, patrol leader of the 4th Lancaster Troop, who represented Lancaster at the 8th World Jamboree at Niagara, Ontario.
"We trust that these Scouts derived a great deal of pleasure from their attendance at the jamboree and from their association with our citizens and their fellow scouts of other nationalities.
"The greetings are most cordially reciprocated to you and the people of Lancaster. We are always happy to receive visitors from the old land.
"With every good wish, yours sincerely, F. C. Hamilton, Executive Assistant."