High Street, Brownhills
AGB was born in 1936 in Wednesbury RD.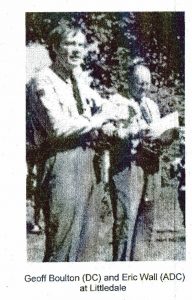 The son of Alfred Henry Boulton, born in Brownhills 25 August 1906, who married Amy Nellie Perry, born 9 August 1904 in Cheslyn Hay, Staffordshire, in 1935 in Cannock RD.
In 1939 the family was living at 71 Leighswood House Leighswood Road, Aldridge U.D., Staffordshire; the father was a General Motor Haulage Contractor.
Attended Queen Mary's Grammar School, Walsall
Geoff Boulton MA. Scouter at Manchester Grammar School from 1960. Lancaster Association Secretary 1967–68. DC 1968-1973. Lecturer at St. Martin's College. County Administrative Secretary September 1991–July 1998. District Vice President from 29 June 2017.