Group Scoutmaster 4th Morecambe & Heysham (Bare) Sea Scouts.
Assistant Scoutmaster 4th Morecambe 1930.
Fred Driver was born 6 July 1911. He was a son of Joseph Henry Driver, born in Keighley in 1877, and Hannah Booth. They married at Emmanuel Church in Morecambe in 1901.
Fred's siblings were Miriam 1902, John Francis 1904 and Mary 1914.
In 1911 the family was living with Joseph's father-in-law at 30 Park Street in Bare, Morecambe and in 1939 Fred was at 'Chesterfield' Oak Avenue, Bare where he was a Master Joiner.
Fred attested for the Royal Artillery Army No. 897001 in the second world war – "To L.A.A. (Light Anti-Aircraft Regiment) 2.5.43; RA/Fld 11.5.43; 17.3.46 2T"
He married Irene Nixon in 1942 at Bare Methodist Church and the couple had two daughters Anne 1944 and Judith 1946. Fred died locally in 2004.
Morecambe Guardian 08 January 1938
BOY SCOUTS' PARTY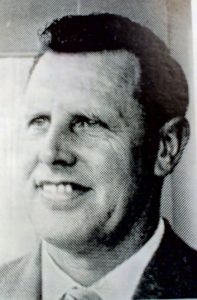 The 4th Morecambe and Heysham (Bare Section) Boy Scouts held a Christmas tea and entertainment at the George Hotel, Torrisholme, on Monday night, when upwards of 40 attended, under the command of Cub Master B. J. Toole, of Lancaster, who was ably assisted by the parents committee. A cinematograph was provided by Lieut. Fred Driver, and other musical items were given