Morecambe Visitor & Heysham Chronicle dated November 4th, 1908
The scouting and gymnasium in connection with S. John's Church appears to be making good headway, and it is certainly interesting to youths in the district.
Morecambe Visitor & Heysham Chronicle dated February 17th, 1909
The activity which is going on at present in connection with S. John's Church is really remarkable. Almost each week sees something taking place. Their dramatic and musical recitals last week proved a great success and delighted many friends. There is an enthusiasm which is pleasing to witness, and the organisation of such functions cannot but do good to the Church and to the Sunday School.
Another point worthy of interest is the success of the Boy Scouts. Except those who are intimately connected with the work no one can realise what good they are capable of doing. The success of this movement is due largely to Mr Beckwith and although his natural modesty will resent being mentioned in this matter it is only fair to give honour and credit where it is due. His whole heart and soul is in doing good for the boys and he is certainly bringing them up to a high standard of perfection and training them in those qualities that will go to make them men in every sense of the word. We wish him success.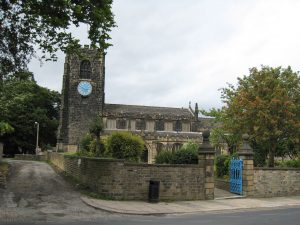 All Hallows, Almondbury (photo: Alan Hague)
Arthur Beckwith was born in Lepton, Huddersfield 26 May 1870 and baptised at All Hallows, Almondbury on 10 July 1870. In 1911 he was living on Hest Bank Lane, (Slyne) his occupation being recorded in the census as Wool Broker, along with his son Harold William born 1898 in Apperley Bridge. He was then a widower, his wife Ada Elizabeth nee Baxter having died 26 February 1910.

In Bulmers " History & Directory of Lancaster & District, 1912," Arthur was listed under Slyne with Hest township as follows: "Beckwith, Arthur, gent., Braeside, Hest Bank."

Morecambe Guardian 30 March 1929:-
"SALES BY AUCTION.
By Order of the Mortgagees.
Vacant Possession.
SUNNYSIDE, THE SHORE, HEST BANK
All that Semi-detached House known as "SUNNYSIDE".
Situate on the shore, Hest Bank, as recently occupied by Capt. Beckwith and now vacant, containing: hall, two sitting rooms, three bedrooms, bathroom (h and c), WC, kitchen, pantry, wash house, &c. Sufficient space at the side to erect a garage. The property is leasehold for 99 years from November 12, 1897 at the annual ground rental of £5. It is in a pleasant and healthy situation overlooking Morecambe Bay where the air is pure and invigorating. Hest Bank station and (L. M and S Main Line) is only 3 minutes distant and Morecambe can easily be reached by a short walk along the beach."
In 1939 he is living at 14 Park Street, Morecambe. His "Personal Occupation" being "Private means."
Research continues on his connection with St. John's Church and the Scout Troop there.
Presumably this gentleman is the Capt. Beckwith who was appointed chairman of the Lancaster & Morecambe Scoutmasters Association at the meeting in June 1910. "It was proposed and seconded, Captain Beckwith, of Hest Bank, be appointed chairman of the association."
Arthur died in 1947 in the local area.