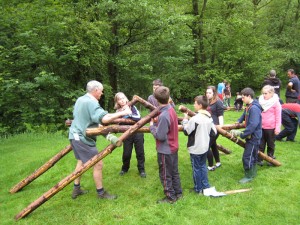 This year's competition was held over the weekend of 18th – 19th June at Littledale camp site.
4 troops entered teams. The weather was mixed with some showers but also sunny periods.
Troops arrived Friday and were allocated camp sites, and set up camp. Saturday was a day of activities prepared and run by the district, with leaders form various troop helping to co-ordinate the scouts building bridges. Various types where built, some for the first time by leaders as well as scouts, these included a cantilever bridge, a self supporting bridge, and a signalling tower. Once built, the scouts had a great time testing the different constructions, some to almost destruction.
The scouts were tested throughout the weekend for the different elements of camping skills including, cooking on gas and wood fires, camp layout, patrol leadership and organisation, camp gadgets, a quiz, to name but a few.
There was a team of leaders and explorers on site, lead enthusiastically by John Buckley.
The winning team was from 16th Morecambe .