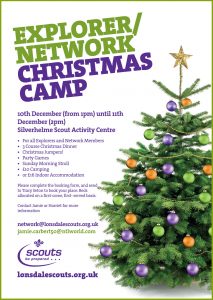 10th December (from 1pm) until 11th December (2pm)
Silverhelme Scout Activity Centre
• For all Explorers and Network Members
• 3 Course Christmas Dinner
• Christmas Jumpers!
• Party Games
• Sunday Morning Stroll
• £10 Camping
• or £16 Indoor Accommodation
Please complete the booking form, and send to Tracy Seton to book your place. Beds allocated on a first-come, first- served basis.
Contact Jamie or Harriet for more information
network@lonsdalescouts.org.uk
jamie.carbert50@ntlworld.com