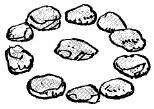 It's with great sadness that I have to inform you that Carolyn passed away last night. I know to some of you this will come as a great shock indeed as Carolyn kept news of her illness private. Six weeks ago she was told she had cancer which was inoperable.
Like many of us I've known Carolyn for 20 years. Her cheerfulness and dedication set a great example to all of us.
Our thoughts and prayers are with Keith and his family. When we know more details for the funeral I will write again.
Carl Hankinson
County Commissioner