Five Scouts from Lonsdale have recently achieved the highest award available in the Scout Section – the Chief Scout's Gold Award.
Four were from the 16th Morecambe Group and one from the 5th Lancaster.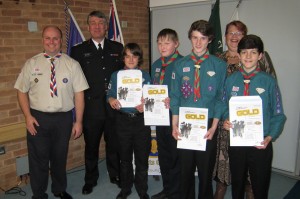 It is gained by completing:
The Promise Challenge
The Community Challenge
The Fitness Challenge
The Creative Challenge
The Global Challenge
The Outdoor Challenge
and two of the following:
The Outdoor Plus Challenge
The Adventure Challenge
The Expedition Challenge
Scouts earning the award have completed numerous challenges and tackled a variety of adventurous and exciting activities. These have included completing the Bowlander Hiking Competition over 20 miles and two days, a visit abroad to the Kandersteg International Scout Centre in Switzerland, volunteering work at the Hospice, taking part in numerous camping trips, leading a patrol at camp and enjoying adventurous activities such as geocaching, kayaking, shooting, archery, mountain biking, gliding and walking across Morecambe Bay.
What don't Scouts do? Be prepared for camping, activities, community projects and more . . .
Certificates of completion were presented by Lancashire's Chief Fire Officer, Mr Chris Kenny, at a special evening at the Woodlands Centre, Chorley on 3rd December before parents and invited guests.