Lonsdale! How many local landmarks can you recognise?
The photos are zoomed in so it could be tricky…
Answer as many as possible – can you get all 12?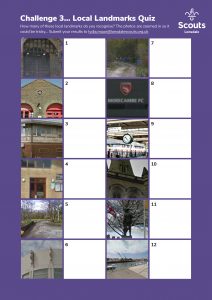 • The challenge is open to all sections.
• Email your results with your name, section and Group to
lydia.maun@lonsdalescouts.org.uk
The submission deadline is St George's Day (Friday 23rd April 2021).
The winner will be announced on Sunday 25th April 2021 via Zoom during the St George's Day Celebrations.