High Street, Ballymoney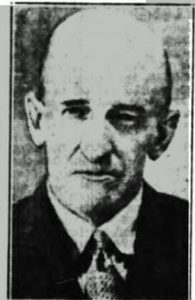 Chairman of Lancaster & District Scouts 1931-1958. Awarded Silver Acorn 1957.
According to 'Scouting in Lonsdale 1908-1999' " Dr. Tomb started nearly forty years work by joining the Executive Committee (in 1926),"
James Alexander Tomb, Kilrea, Belfast M.B., Bac. Surg, 1911, Univ. Edin. (Medical Register 1913)
Dr. Tomb was born in 1886 in Ballymoney, Antrim, Ireland.
Ireland Census 1911
James Tomb Head of Family Married 70 1841 Co Derry
Mary Jane Tomb Wife Married 58 1853 Co Derry
Margaret Tomb Daughter Single 35 1876 Co Derry
James Alexander Tomb Son Single 24 1887 Co Derry
Margaret Stewart Servant Single 44 1867 Co Derry
First name(s) James Alexander Last name Tomb
Sex Male Age 24 Birth year 1887 Birth place Co Derry
Occupation Medical Student
Townland/Street Kilrea District electoral division Kilrea County Derry (Londonderry)
Country Ireland
Religion Irish Church
Britain School & University rolls 1914-1918 Transcription:
James Alexander Tomb
School / university name University of Edinburgh
Narrative Coleraine Academical Institution. MB, ChB 1911; D.P.H. (Manchester) 1913. RAMC, Lieutenant December 1914; Captain June 1915. 3rd East Lancashire Field Ambulance, Egypt. Wounded April 1918.
SUPPLEMENT To THE LONDON GAZETTE, 7 JANUARY, 1915
3rd East Lancashire Field Ambulance; James Alexander Tomb, M.B.; to be Lieutenant.
Dated 1st December, 1914.
SUPPLEMENT TO THE LONDON GAZETTE, 4 OCTOBER, 1915
The undermentioned Lieutenants to be Captains : –
James A. Tomb, M.B. Dated 1st June, 1915.
Dr. Tomb married Dorothy Lamport, the daughter of Dr. H. C. Lamport, the first Divisional Surgeon of the Lancaster Division of the St. John Ambulance Brigade, in 1922:
Lancashire Marriage indexes for the years: 1922
Surname Forename(s) Surname Forename(s) Church / Register Office Registers At Reference
TOMB James Alexander LAMPORT Dorothy Parker Lancaster, St Mary Preston
In 1939 Mrs Tomb is listed as residing at 14 Castle Park, Lancaster.
Morecambe Guardian 15 April 1952:
DR. TOMB TO RETIRE
Successor Appointed
DR. J. A. Tomb, of Castle Park, Lancaster, who has spent nearly 40 years in the public health service of Lancashire County Council, is retiring on May 27. A year ago when due for retirement he was asked to remain for another year and agreed to do so.
Qualifying at Edinburgh University in 1911, Dr. Tomb joined Lancashire County Council service two years later and the following year obtained his Diploma in Public Health at Manchester University. He was appointed M.O.H. for Lancaster R.D.C., Lunedale R.D.C., and Carnforth U.D.C., in 1937 and in July 1948 became County Divisional M.O.H., in Lancashire Division No. 2. Since 1950, when Dr. A. R. Graham relinquished his duties at Lancaster City M.O.H., Dr. Tomb has also held that position.
This long record of service was broken only by war duties and from 1914 to 1918 Dr. Tomb served in the R.A.M.C. with the 42nd Division (Territorials).
The doctor has several other interests outside his profession and for many years has been chairman of Lancaster and District Boy Scout Association. Since 1924 he has been Divisional Surgeon to Lancaster St. John Ambulance Division and is a Serving Brother of the Order of St. John.
A native of Ulster, Dr. Tomb still retains an attractive Irish brogue. He has lived in Lancaster for the past 32 years and in 1922 married the daughter of the late Dr. H. C. Lamport, whose name is familiar in St. John Ambulance circles to which he donated the Lamport Cup which is competed for annually.
Dr. Tomb died in 1960 Lancaster.