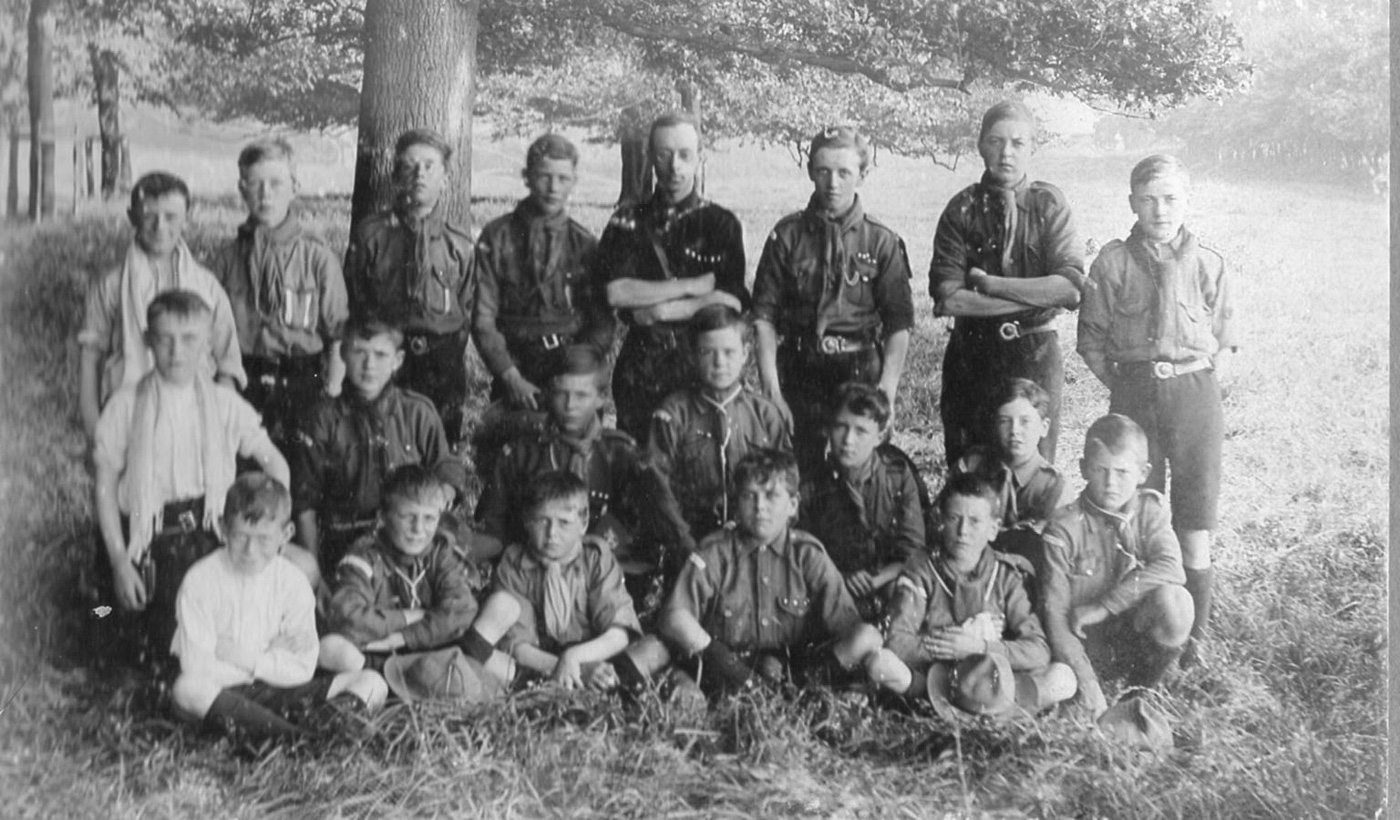 4th Lancaster (Wesley) Troop 1916
Group Scoutmaster 4th Lancaster.
A Scout in the 4th Lancaster (Wesley) Troop from 1910. Succeeded R E Wright as Group Scout Master in 1930.
William Tyson was born 27 Oct 1897 in Warton. His mother was Agnes E. Tyson.
Agnes Elizabeth Tyson married Edward Thompson Shepherd at Christ Church, Lancaster 13 Aug 1898.
Marriage: 13 Aug 1898 Christ Church, Lancaster, Lancs.
Edward Thompson Shepherd – 38 Labourer Bachelor of 15, Edward Street, Lancaster
Agnes Elizabeth Tyson – 26 Domestic Servant Spinster of 53, Derwent Road, Lancaster
Groom's Father: Joseph Shepherd, Farmer
Bride's Father: William Tyson, Goods Clerk
Witness: James Walker Tyson; Minnie R. Goltenboth
Married by Banns by: F. W. Woodward, Curate
Register: Marriages 1896 – 1900, Page 58, Entry 116
Source: LDS Film 1526062
In the 1901 census the family is living at 15 Edward Street, Lancaster. William is listed as a stepson of Edward T Shepherd.
The 1911 census lists the family at 110 Aberdeen Road, Moorlands. William is recorded as William Tyson Shepherd now with 3 brothers and 2 sisters. Edward's son John Shepherd born 7 Oct 1912, who married Mary Lewis in 1940 at St. Luke's, Skerton was the father of Kathleen (Kath) Physick, who married Charlie in 1965, carrying on the Scouting tradition.
British Army Service Records 1914-1920 (partially burnt)
No. 3475 Pte. William . . .
Army Form 3016. Men returned from Expeditionary Force or from Garrisons abroad.
No. 139379 5/12/1917
Regimental No. 245210 Pte. Sheppard W
Regiment or Corps 5 Manchester
Has been granted furlough from 8-12-17 to 18-12-17
Address while on leave 110 Aberdeen Road Moorlands Lancaster
(burnt) Manchesters
PTE SHEPHERD WILLIAM TYSON
110 ABERDEEN ROAD MOORLANDS LANCASTER
Age last birthday 21
First joined for duty 9.1.15 at LANCASTER
Date 15.2.19
Enlistment: at Morecambe
Age 17 years – days. Labourer
5 feet 5 1/2 inches. 112 lbs. 34 inches chest
Enlisted 9th day of January 1915
2/5 Kings Own R L Regt. 3475. 26/6/17 5th Bn Manchester Regt 245210
Campaigns, medals and decorations: Home 9/1/15 to 9-6-17 France: 10-6-17 to 19-11-17 British War Medal, Victory Medal
Next of kin: Mother & Father 110 Aberdeen Road . . .
William married Ethel Ffrench in 1924. Interestingly her father Edward French was born in Hobart, Tasmania (formerly Van Diemen's Land) in 1857 when his father William French, born 1830 in Hatfield Broad Oak, Essex, was serving in the army there. Records show that he served 21 years with the 1st Battalion 12th Regiment of Foot (the East Suffolk Regiment), during this period he served abroad almost 13 years – 9 years in Australia and 4 years in New Zealand. While garrisoning the Australian Colony of Victoria in 1854, detachments from the regiment, the 40th Regiment of Foot and colonial police, suppressed the Eureka Rebellion, by gold prospectors at Ballarat. Edward's record shows that he claimed that he was seriously wounded in this action. In 1860, the regiment moved to New Zealand to help contain the rebelling Maoris during the New Zealand Wars (1845–72). He was in possession of the New Zealand War medal. He left the regiment in 1871 after completing his second term of limited engagement while serving as supernumerary as a Staff Sergeant in the 1st Royal Lancashire Militia.
Lancashire Marriage indexes for the years: 1924
Surname Forename(s) Surname Forename(s) Church / Register Office Registers At Reference
TYSON William FFRENCH Ethel Lancaster, Methodist, Sulyard Street Preston AP34/2/49
In 1939 William and Ethel are living at 24 Aberdeen Road, Lancaster. He is a general labourer. Ethel sadly died 30 May 1941 aged just 41.
Bill Tyson, Group Scout Master 4th Lancaster, awarded Medal of Merit 1928, Silver Acorn 1959.
Bill died locally in 1966.