The Lancaster Guardian and Observer
Friday, November 4th 1960
THE first Lancaster boy to qualify for the Duke of Edinburgh's Silver Award for Scouts, 17 years old Ronald Wild, of 42 Park Road, Lancaster, a senior scout with the 13th Lancaster Troop, received the award from the Mayor of Lancaster, Coun. P. J. Oliver, at the Mayor's Parlour, on Monday.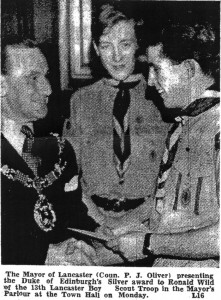 Other awards have been gained by youth club members in the Lancaster District, but Ronald is the first Scout to qualify since members of the movement became eligible to compete for it, 12 months ago.
In gaining the award Ronald, a sub-prefect and member of the Middle Sixth Geography form at Lancaster Royal Grammar School, had to reach a high standard in physical fitness, public service and expeditionary work.
He began scouting as an eight year old when he joined the 23rd Lancaster (Christ Church) Wolf Cub Pack. The leader of the pack, Miss J. Beck, Ronald's aunt, was among those who accompanied him on Monday.
His father and mother, Mr. and Mrs. Arthur Wild, were also present. Mr. Wild is Scoutmaster for the 23rd Lancaster Troop. Two aunts, Mrs. T. Wild and Mrs. M. Sloane also attended the presentation.
Also introduced to the Mayor were the Senior Scoutmaster of the 13th Troop, Mr. G. M. Shackleton and his wife, the 13th Lancaster group scoutmaster, Mr. F. R. Hayton and senior Scouts David Shackleton, Tony Muchall, John Euers, and John Atkinson.

Local scouting officials who attended were the District Commissioner, Mr. H. Todd, for Senior Scouts, Mr. J. S. Clarke and the chairman of the local Boy Scouts' Association, Mr. A. Huck.
* Arthur Huck was born 1902 in Holme, Westmorland. His father William Huck was farming at Pickle Farm, Hutton Roof in the 1911 Census.
Teachers' Registration Council Registers record that Arthur Huck Register Number: 97996 was registered April, 1946 at Lancaster Royal Grammar School.
His Attainments: B.Sc. (Hons. Class II Chemistry), Liverpool. University of Liverpool Diploma in Education.
Recognised as a Certificated Teacher by the Board of Education.
Training in Teaching: University of Liverpool, Department of Education, 1923-1924.
Experience: Assistant Master- Liverpool Institute, Liverpool, June-July 1924;
Lytham College, Ansdell, Lancs., 1924-1926.
Royal Grammar School, Lancaster, 1926-
England & Wales, Electoral Registers 1930:
10 Chester Place, Lancaster
Huck, Arthur
Huck, Margaret
Arthur married Margaret Jones in 1929 in Liverpool.
Arthur died locally in 1990.