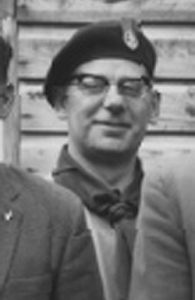 George Calvert Miller was born 11 Mar 1916 in Blackburn. He was an elder son of John William Miller and Mary née Maden.
John William Miller and Mary Maden were married in 1914 at Blackburn Register Office or in a chapel where the Registrar attended.
In 1939 George was living at 33 Alker Street, Blackburn; His occupation being 'Pharmacist Studying.'
George married Lilian Owen at Holy Trinity, Hoghton in 1941.
He was Lancaster District Secretary 1954 – 61, Lancaster DC 1961 – 68, and Chairman of the Littledale Campsite Committee.
He owned Hindle's Chemist shop, corner Church Street and North Road (now 2016, the Bella Italia, I think) – a rather too convenient centre in the city! – per Peter Gedge.