Belfast 1890's
I had some difficulty locating Dr. Stevenson but I think that this is the gentleman concerned . . .
Dr. Cecil Vivian Stevenson M.B., B.Ch. 1930, D.P.H. 1937, Q.U. Belf.
Cecil Vivian Stevenson was born 7 June 1904 in Belfast City. He was the son of Alfred W and Letitia Jane Stevenson. In the 1911 Census of Ireland the family is living at Bradbury Place, Dublin Road, Belfast. Stevenson Census 1911 and previously in 1901 here Stevenson Census 1901
In the Medical Register for 1931 his address is listed as 51, Osborne Gardens, Belfast; and in 1939 at Bregia, Osborne gardens, Belfast. In the 1951 and 1959 registers his address is given as 8, Middle street, Lancaster.
He appears in the Register of Electors for Sowerby in 1933 and 1937 living in Cornholme Ward No. 1 under "Vale Manse" (Todmorden). He now has a wife Irene North Stevenson.
In 1939 Cecil is living with his wife Irene North nee Hardy at Sherwood, Springfield Park Road, Ulverston. He is listed as an Assistant Medical Superintendent Sanatorium – this was most probably High Carley Sanatorium opened in 1916, closed in 1955.
Morecambe Guardian 23 April 1949:
Dr. Stevenson Takes Over
TITLE of "District Commissioner" to the name of Dr. C. V. Stevenson on the "National Bob A Job Week" photograph recently may have surprised many who read a letter in these columns from Mr. R. E. Wright under the same title.
The latter's record of service to Lancaster and District (South Lonsdale) in many capacities since 1909 is widely known and appreciated. Last summer, on the elevation of Mr. J. Dodds Drummond to the rank of County Commissioner, Mr. Wright stepped into the breach to become D.C. He has carried out his task well, but feels quite honestly that the duties associated with the leadership of a large and growing Scout populace really call for the appointment of a younger and more energetic successor.

It is typical of Mr. Wright's modesty that he has taken this step and has relinquished his warrant in favour of Dr. C. V. Stevenson, of Lancaster, whom he will be the first to congratulate and welcome in his stead. Mr. Wright will revert to senior A.D.C.

The new District Commissioner and a former Scout, has a keen admiration for the Movement. He has already established himself during the past two years as a popular and respected member of the Local Association through service on the Executive, Warrants and Activities Committees, and often camps with Scouts. I know that Dr. Stevenson is looking forward to a happy future with us and to borrow a Cub phrase, we wish our new Chief – "Good Hunting!"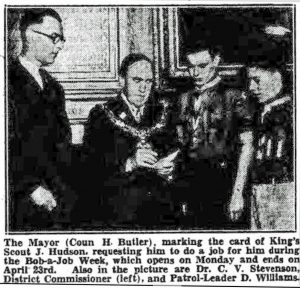 Lancaster Guardian 14 April 1949J. Hudson – possibly John Hudson born 23 January 1934, son of John Hudson and Mary Elizabeth Allan. In 1939 living at 16 Garnet Street, Lancaster. Father is a Textile Calender Man at a Bookcloth Works.
Cecil died in 1990 in Weston super Mare.