Belfast 1890's
I had some difficulty locating Dr. Stevenson but I think that this is the gentleman concerned . . .
Dr. Cecil Vivian Stevenson M.B., B.Ch. 1930, D.P.H. 1937, Q.U. Belf.
Cecil Vivian Stevenson was born 7 June 1904 in Belfast City. He was the son of Alfred W and Letitia Jane Stevenson. In the 1911 Census of Ireland the family is living at Bradbury Place, Dublin Road, Belfast. Stevenson Census 1911 and previously in 1901 here Stevenson Census 1901
In the Medical Register for 1931 his address is listed as 51, Osborne Gardens, Belfast; and in 1939 at Bregia, Osborne gardens, Belfast. In the 1951 and 1959 registers his address is given as 8, Middle street, Lancaster.
He appears in the Register of Electors for Sowerby in 1933 and 1937 living in Cornholme Ward No. 1 under "Vale Manse" (Todmorden). He now has a wife Irene North Stevenson.
In 1939 Cecil is living with his wife Irene North nee Hardy at Sherwood, Springfield Park Road, Ulverston. He is listed as an Assistant Medical Superintendent Sanatorium – this was most probably High Carley Sanatorium opened in 1916, closed in 1955.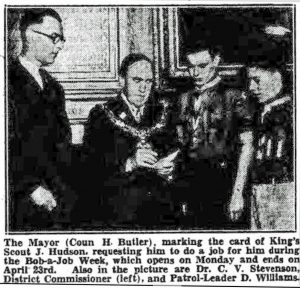 J. Hudson – possibly John Hudson born 23 January 1934, son of John Hudson and Mary Elizabeth Allan. In 1939 living at 16 Garnet Street, Lancaster. Father is a Textile Calender Man at a Bookcloth Works.
Cecil died in 1990 in Weston super Mare.