This photo, taken on Sulyard Street in Lancaster is one of a series showing the 4th Lancaster's camp to Silverdale.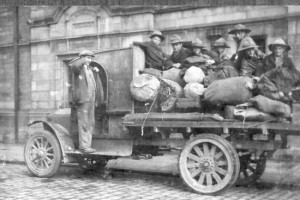 Now, that's the way to travel to camp! – who needs climate control?
The driver looks somewhat bemused however . . .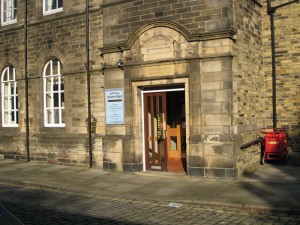 Morecambe Guardian 12 August 1922:-
The 4th Lancaster Boy Scouts, under Scoutmaster Wright, have encamped at Hazelwood, Silverdale, this week.
Lancaster Guardian 7 March, 2008:-
MF of Quernmore recognised her late father Reg Riley on this picture of Scouts. He can be seen sitting at the back of the lorry.
M writes: "He often went camping with Sulyard Street Scouts, and subsequently became Scoutmaster and Rover Scoutmaster.
He took his "lads", including his brother Harold, all over the North West and Wales camping and walking.
They even went to Prague before World War Two.
Reg was at the first World Jamboree at Arrow Park and met Lord Baden Powell and the then Prince of Wales. He had many a story to tell. Thank you so much for printing the photo and bringing back memories of my father!"
Lancaster Guardian 29 October 1937:-
Lancastrian's Mountain Rescue.
The rescue of an injured man from the precipitous slopes of the Glyder Mountain near Bethseda (sic) in North Wales, after he had fallen while climbing is a tribute to the heroism and initiative of a Lancaster mountain climber, Mr. Reg Riley, of Ulleswater Road.
The accident occurred on Sunday, and Mr. Riley, who was spending the weekend mountain climbing, was attracted to the scene by a woman's signals of distress. He found that John Higgs, of Wavertree, was lying injured on ledge 30 feet below. He immediately went to the assistance of the climber and later was one of the stretcher party who conveyed the injured man to Bangor Hospital.
The descent of the mountain took about 4 hours.
Mr. Riley is a van driver employed by the Alfred Street Laundry, Lancaster, and is also connected with the local Boy Scouts movement. It was stated that the modest rescuer gave a false name when questioned at Wales, but extensive inquiries in Lancaster by a "Guardian" reporter brought to light the identity of the heroic Lancastrian.
Reginald Partridge Riley was born 30 May 1908 in Lancaster. Brothers Harold Thompson Riley & William Riley.