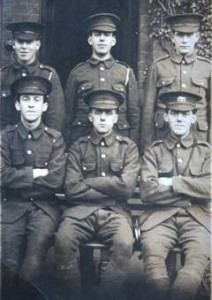 Image is copyright, Trustees of the King's Own Royal Regiment Museum.
'Boy Scouts on Imperial Service'
This photograph is of six members of the 4th Morecambe Boy Scouts who enlisted in the 5th Battalion of the King's Own Royal Lancaster Regiment, for Imperial Service.
In February 1915 Tom Edmondson was at Sevenoaks, and was shortly proceeding overseas on active service. The others were billeted at Blackpool with the 5th (Reserve), later 2nd/5th Battalion of the King's Own.
The names reading from left to right, rear are Arthur Johnson, of Victoria Street, Maurice Hodgson, Green Street, James Swain, Beecham Street, seated Arthur Baron, Hampton Road, Sandylands, Tom Edmondson, of Green Street, and Albert Hodgson, also of Green Street.
Accession Number KO1926/20
Number 2890 Private Arthur Johnson of the 5th Battalion King's Own, and later the 32nd Battalion of the Machine Gun Corps. Johnson lived at Victoria Street, Morecambe and worked as a fisherman. He was wounded whilst serving in France and Flanders. He may have been wounded on more than one occasion, but it is recorded that he was gassed and admitted to hospital in August 1918. Accession Number KO1926/21
According to District archives this 4th Morecambe Group was registered on 26th Jan 1912 at the Parish Church. Scout Master the Rev R.E(sic). Stanley.