Dive Copse Cemetery
Baptism: 29 Mar 1896 Holy Trinity, Poulton-le-Sands, Lancashire, England
Thomas Edmondson – [Child] of John Edmondson & Mary Ann (Dobson)
Abode: Green St.
Occupation: Joiner
1911 Census:
30 Green Street, Morecambe
Father John Edmondson, Building Contractor. One of 10 children.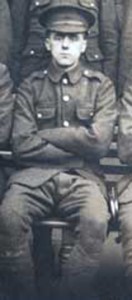 Private 2852 1st/5th Bn., King's Own (Royal Lancaster Regt.) who died on Tuesday 15 August 1916 .
DIVE COPSE BRITISH CEMETERY Somme, France II. F. 24
Source Lancaster Guardian date 26 August, 1916 page 6, no photo
Edmondson Thomas Private killed in action , 1916, son of Mr John Edmondson, Green Street Saw Mills, Morecambe, and 'The Alders', Lamplough Street, Morecambe.
Source: Morecambe Visitor and Heysham Chronicle Report dated 10 Feb 1915. Photo included
Report: Boy Scouts from Morecambe serving with the forces. Includes photographs of Maurice HODGSON and Tom EDMONDSON both of Green St Morecambe who were later killed.
Lancaster Guardian, August 26, 1916
Morecambe Heroes.
News has been received that Corpl. Maurice
Hodgson, 5th King's Own, has been killed in
action. He is a son of Mr. Alfred Hodgson, of
38, Green-street, Morecambe, and enlisted in
September, 1914, and went to the front in France
in April of this year. Before enlisting he was
employed by Mr. H. T. Walker, ironmonger,
Regent-road. He is 19 years of age.
Pte. Wm. Houghton, Black Watch, son of
Mrs. Houghton, of 70 Euston-road, Morecambe,
is also reported killed. At the commencement of
the war he was serving in the West Riding Police
Force and obtained leave to join the colours last
November. After training a little over four
months at Nigg in Scotland, he was drafted to
France.
Pte. Thomas Edmondson, son of Mr. John
Edmondson, of Green-street saw mills, and "The
Alders, Lamplough-street, is also reported
killed.