Lancaster Guardian, October 1962
Gallantry award for Warton Scout
WARTON Scout Jeffrey Hoggarth of Sand Lane who dived into a 12 feet deep pool in the River Keer at Carnforth to rescue his friend from drowning and then applied artificial respiration, has been awarded the gilt cross for gallantry by the Chief Scout. Jeffrey, a pupil at Carnforth Secondary School, joined the Scouts early in 1959 and is now patrol second in the Warton St. Oswald Scout Troup.
The story of Jeffrey's heroic' rescue were reported in the "Guardian" last June. He dived into the water when his friend, 15-year-old Arthur Hardy, a member of the same Scout Troup, slipped from a ledge into the pool.
Arthur, a non-swimmer, was soon in difficulties and there was a frantic struggle as Jeffrey, who was then 14, attempted to rescue him. Jeffrey left the water to try to get help but found that there was no-one else in the area.
Arthur was by then floating unconscious and Jeffrey dived again into the water and succeeded in pulling him to the shore. He then applied artificial respiration -a technique learnt during his Scout training – until Arthur recovered.
Jeffrey will be presented with the gilt cross, awarded on the personal recommendation of the Chief Scout. Sir Charles, Maclean, by Mr. G. C. Miller, District Scout Commissioner for South Lonsdale.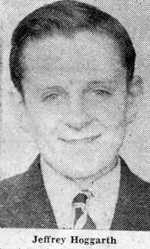 Lancaster and District Boy Scouts Association Handbook June 1963
Our congratulations go to Mr. Hector Todd, A.D.C. for Handicapped Scouts, who has been awarded the Medal of Merit in recognition of his services to the Boy Scout Movement, a well merited award as all who know him will agree.
To Geoffrey Hoggarth, a Scout of the Warton St. Oswald's Group, who has been awarded the Gilt Cross for Gallantry, awarded for his action in saving from drowning a friend, who was a member of his own Scout Troop.
Jeffrey Maurice Hoggarth was born in 1947 a second son to Maurice Henry Hoggarth and Doris Heselton. Maurice was born in Settle 19 April 1916, Doris 30 November 1915 also in Settle. They were married in 1938 in Settle.
In 1939 they are living at 6 Jackson Terrace, Millhead, Carnforth where Maurice is recorded as a Railway Porter trained as a Goods Shunter.
Jeffrey was living in Huddersfield in 2002.