LANCASTER GUARDIAN AND OBSERVER FRIDAY, JANUARY 16, 1953
WON TROPHY TWICE IN SUCCESSION
These boys of the 12th Lancaster Scout Troop have won the Scorton Challenge Trophy for camping for the second year in succession. They are pictured celebrating their success with a party at their headquarters on Tuesday.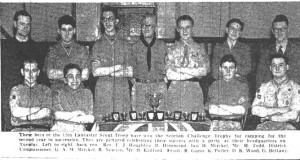 Left to right, back row: Rev. E.J. Houghton, B. Hammond, Ian H. Mirckel, Mr. H. Todd, District Commissioner, G.A.M. Mirckel, R. Newton, Mr. H. Radford.
Front: R. Gunn, K. Potter, D.K. Wood, G. Bettany.