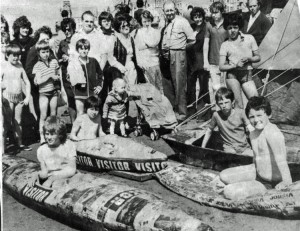 Morecambe Visitor, June 1979
An armada of paper boats, built from copies of The Visitor, sailed across Sandylands Pool on Sunday.
The race was one of the Mad Water Sports organised by the Lonsdale District Cub Scouts, and 19 Packs competed at walking on water, harpooning the whale, a wading race, pirate boat battle, pole fights, greasy pole, and sand drawing competitions. A best dressed pirate competition attracted 65 entries.
But the highlight of the afternoon for crowds on the prom and beach was The Visitor Trophy race, when an assortment of bucket-sized and canoe-shaped craft took to the water.
One-man crews paddled in vain with their hands against a cutting breeze which played havoc with orderly competition. Many gave up and started to spin in circles or just float helplessly off course, while others dissolved in a soggy mess, and one turned turtle.
Venture and Sea Scout stewards splashed after boats, picking up the pieces as they gradually disintegrated. One came to a halt seconds after the starter's signal and remained there with its bow sticking upright for the rest of the race.
Ahead of the confusion, and first across the winning line was the 53rd Lancaster (John O'Gaunt) boat, propelled by ten-year-old Gary Johnstone. He was followed by Richard Braid (1st Overton) and third was Stephen Stretch (53rd Lancaster Loyne).
Prizes included vouchers given by The Visitor and an anonymous donation.
A collection for over £12 was given to the RNLI.
Trophies and certificates were presented by Mr. Keith Willacy of the Inshore Lifeboat.
Winners were: best dressed pirate — 1 Neil Casson (Centurions), 2 Michael Anderson (53rd Lancaster, Loyne); walking on water — 1 Mark Edmondson (11th Morecambe), 2 Graham Lamb (13th Morecambe), 3 Jonathan Proctor (1st Forton);
Best looking Visitor boat —John O' Gaunt; "Visitor" Trophy Race — 1 Gary Johnstone (John O'Gaunt), 2 Richard Braid (1st Overton ) 3 Stephen Stretch (53rd Lancaster, Loyne).
Wading race — 1 Paul Meagher (13th Morecambe), 2 . Gary Johnstone, 3 Peter Backhouse (1st Overton); harpooning the whale — 1 Richard Williams (1st Overton); sand drawing — 1 5th Lancaster, 2 16th Morecambe, 3 Centurions;
pirate boat fight — 1 John O'Gaunt, 2 1st Halton, 3 13th Morecambe.