Cub mistress retires after 27 years
Lancaster Guardian and Lancaster Observer
8th November, 1963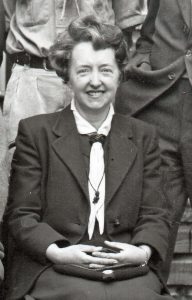 MISS JULIA V. BECK of 11 Vincent Street, Lancaster, who for 27 Years has been associated with the 23rd Lancaster Christ Church Scout troop, retires as Cub mistress at the end of this month.
Miss Beck became associated with the troop in 1938 when she was acting assistant Cub mistress. Two years later she was made assistant Cub mistress and in 1940 became promoted to the full rank of Cub mistress.
During her service with the 23rd Lancaster, Miss Beck has held both district and county ranks. For some years she was District Commissioner for Cubs and also held the position of assistant Akela leader, a county appointment in which she was responsible for the training of Wolf Cub leaders. She holds a long service medal and a medal of merit as well as the wood badge awarded on completion of the course as laid down by Lord Baden-Powell.
In recent years Miss Beck has been responsible for the running of two Wolf Cub packs, one in the Gregson Institute and one at Dale Street, both of which belong to the 23rd Lancaster, but which was obliged to divide owing to the increasing number of new Cubs.
She will be succeeded by Mr. Eric Wall, Cub master of Carnforth.
Julia Victoria Beck was born 25 Jun 1919 in Lancaster, daughter of Thomas Beck (born 1867 in Ulverston) and Sarah Bessie Frampton born 18 Sept. 1874 in Christchurch, Hampshire). They married in Christchurch in 1898.
In the 1911 census Thomas & Sarah B are living at 11 Vincent Street, Lancaster with 2 daughters and 2 sons. He gives his occupation as Labourer, Linoleum Works. The family had moved around as one child was born in Portsmouth, one in Belgaum, Bombay in India, one in Sheffield and one in Lancaster. Records show that Thomas was a Gunner in 35 Battery, Royal Field Artillery, enlisting 6 Feb. 1890, and also when his daughter Agnes Eleanor was born in 1902 in Bombay. On his discharge on 16 March 1908 his medals and decorations record shows he was with the Chitral Relief Force 1895 and awarded India 1895, with clasp, Relief of Chitral 1895 medal.
Thomas enlisted in No. 1 Supply Company, 3/5 King's Own Royal Lancaster Regiment in 1914 (No. 20023) later transferring to 318 Protection Company, Royal Defence Corps (No. 14073).
In 1939 Sarah (widowed) was still living at 11 Vincent Street with her family, Thomas having died in 1932.
Julia died 28 May 2007, locally, aged 88.
Photos below kindly provided by Julia's Gt Gt Niece. (May 2021)