Morecambe Visitor 17 July 1935
SCOUTS AND GUIDES
Joint Annual Sports
Scouts Join in With the Local Troops
Scouts, Girl Guides, Cubs and Brownies gathered in force on the Elementary Schools' Sports Ground in Woodhill Lane on Saturday afternoon when the eleventh annual sports day and rally promoted by the 1st Morecambe & Heysham Boy Scouts was held in conjunction with the sports of the Morecambe, Heysham and District Girl Guides.
The weather was glorious from the point of view of the spectators, but it was rather too hot for the competitors in the strenuous contests.
Among those present when the salute was taken by Councillor J. T. Stansfield (in the absence of the Mayor and deputy Mayor), were Councillor F. Clayton, Mrs E. Bond, J. P., Rev. Egerton Ward (Scouts' Chaplain), Mrs S. A. Wolfenden (District Commissioner of the Girl Guides) and Miss E. Shaw (Secretary).
Group Scoutmaster George Whittles and Scoutmaster C. W. Harmsworth were in charge of the Scouts, while Captain Miss Yates and Miss Fox headed the Guides.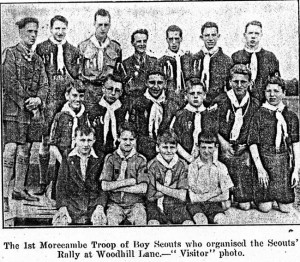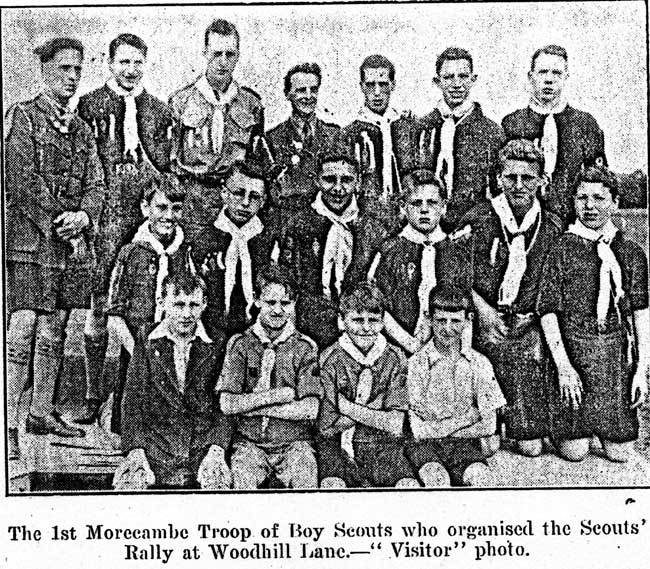 USEFUL AMBULANCE KNOWLEDGE.
Evidence of the useful training which boys and girls receive in the Scout and Guide movement was afforded by the inclusion of an ambulance competition, in which the competing teams were called upon to treat a supposed "casualty." The skill of some of' the young ambulance pupils drew commendations from the examiner, Dr. J. McFadzean.
The Scouts' challenge cup for the ambulance test was won by the 1st Morecambe Troop, who thus wrested the trophy from the holders, Clydebank Scouts, whom they defeated by 20 points. The Morecambe Troop's success was a credit to their keenness in ambulance work and to their trainer, Mr. Foxcroft, who is so prominent in railway ambulance work locally.
The Girl Guides' silver challenge cup for the ambulance test was won by the 3rd Lancaster Guides.
SCOTS TAKE A TROPHY HOME.
The Clydebank Scouts, who are on holiday in Morecambe, have often competed in the Morecambe rally, and they had the satisfaction of winning the Dr. Watterson challenge shield for the highest points of the day. The 1st Morecambe Troop were second.
In addition to the usual flat, wheel-barrow, sack and potato races, the high jump, long jump, tug o' war and so on, there were several novel events including a cycle slow race, a cycle obstacle race, a fire lighting competition, a slate balancing race and a morse relay race.
The principal organisers of the rally were G.S.M. Whittles and S. M. Harmsworth, and they received valuable assistance from a number of willing helpers. The Ladies' Committee of the 1st Morecambe Troop were in charge of the arrangements for tea.
Despite the fact that both Scout and Guide events were in progress simultaneously, there was no confusion, and the smoothness with which the programme was carried out was worthy of praise. The competitors were so numerous that there were several heats for each event, and the sports continued from two o'clock until nine.