Lancaster Guardian, February 15, 1919
Scouting Notes –
Saturday 15th, Paper collection. Patrol Leader J. R. Cook has been promoted Warrant Assistant Scoutmaster to the 1st Caton Troop. Badges:- Leatherworker, D. Brown and A. Baines, 7th Lancaster
Lancaster Guardian, April 12, 1919
Scouting Notes – A Scout memorial service will be held in the Soldiers' Chapel, Parish Church on Tuesday next at 7.25 pm. Scouts will parade in Dalton-Square at 7.0 pm. Badges:- Cyclist, J. Cookson (7th Lancaster); thriftyman, F. Barnfield (Caton), David Irving and F. Percival (4th), W. Walsh (5th).
Lancaster Guardian, May 3, 1919
Scouting Notes – Friday (May 2nd), Rifle instruction class at Sulyard-Street 7.30 to 8, for all Scouts picked for the Imperial Shield Competition. Badges:- Ambulance (re-qualify), J. R. Cook, F. Shaw and H. Gudgeon 1st Caton.
Lancaster Guardian, May 24, 1919
Scouting Notes – Saturday (Empire Day), special rally; troops must be ready to leave their headquarters at 2.0 pm; light refreshment provided. – Sunday Church parade; meet Dalton-Square at 10 am. Badges:- Fireman, W. Keeffe, R. Cumpsty, E. Holden, E. Davis, A. Holland, E. Gardner, T. Perkin, S. Bakey, W. Sim, J. Hawthornthwaite, J. Wilson, A. Turner, W. Nixon (5th Lancaster); public healthman, J. R. Cook (Caton); Cyclist, T. Thompson (5th).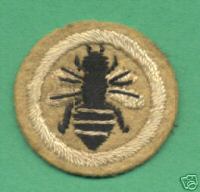 The 'Thriftyman' Proficiency Badge was introduced in 1916 and had as part of its criteria an option of joining the 'Scouts' Friendly Society' –
"At 16 years or over must have five War Savings Certificates, or be a member of the 'Scouts' Friendly Society.' The principle was that money should be genuinely saved by the Scout out of his earnings or pocket money."
Though thrift was a long cherished national objective, not least in time of war, this particular badge did not meet with universal approval. Some thought that it smacked of classism; Scouts from richer families would find it easy to win the badge whereas those from poorer families would find it impossible. B-P worked hard to dispel such thoughts. In a letter to Percy Everett dated October 17th, 1916, B-P wrote giving him 'ammunition' to use should anybody attack the badge at the forthcoming Manchester Conference.
"The first boy to qualify for it that I have heard of is one in my village troop here – quite a poor labouring boy with a drunken father and no mother – getting 7/6 a week. Aged 13½."
(7/6 stood for seven shillings and six pence, which is 37½p in today's money, and its buying power in 1916 would only equal that of £12.10 today.) The badge was eventually withdrawn in February 1924.
From "Scouting Milestones" http://www.scouting.milestones.btinternet.co.uk/index.htm